Although Hurricane Sandy may have lost some of its punch, its aftermath will be felt for some time to come.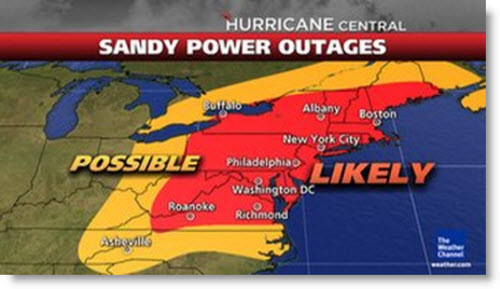 On Monday, Hurricane Sandy wreaked havoc across the Northeast, with 85 mph winds, massive amounts of stinging rain and expansive flooding.
At 8 a.m. Tuesday morning, The Weather Channel reported that eight million people were without power. By the time the storm is over more than 60 million people could be affected by power outages, according to ABC News.
If you lose power and you're using a portable gas generator, take precautions because using gas-powered equipment improperly can lead to carbon monoxide poisoning, warns the American Association of Poison Control Centers.
Widespread power outages produce a surge of alternative power/heating device usage, including generators, gas stoves, and charcoal or gas grills. Carbon monoxide (CO) production occurs any time fuels (oil, gas, kerosene, wood, propane and charcoal) are burned.
Enclosed spaces allow CO to build up quickly to dangerously high levels. You can't see, taste or smell carbon monoxide, and it can cause life-threatening symptoms quickly in people. Even at moderate levels CO exposure can cause headaches, dizziness, confusion, fatigue and nausea. CO is called the "silent killer" because there are no odors and few symptoms that signal problems. People who are sleeping may never become aware of their symptoms and may pass away from carbon monoxide poisoning.
For those not affected by Hurricane Sandy, carbon monoxide poisoning is still an issue, particularly as we head into the heating season, and people face other circumstances requiring alternative heating sources. While CO poisoning cases increase following severe weather events, it still remains the most common cause of poisoning deaths in the United States.
The best way way to protect your family is with a monitored carbon monoxide detector. Watch this video for other top tips to keep your family safe from carbon monoxide poisoning.
Next Steps:
https://www.americanalarm.com/wp-content/uploads/2022/12/American-Alarm_logo_1Xr.png
0
0
American Alarm Blogging Team
https://www.americanalarm.com/wp-content/uploads/2022/12/American-Alarm_logo_1Xr.png
American Alarm Blogging Team
2012-10-30 16:07:34
2012-10-30 16:07:34
After Hurricane Sandy: Risk of Carbon Monoxide Poisoning Rises