Healthcare Series: Top Security Challenges for Assisted Living Facilities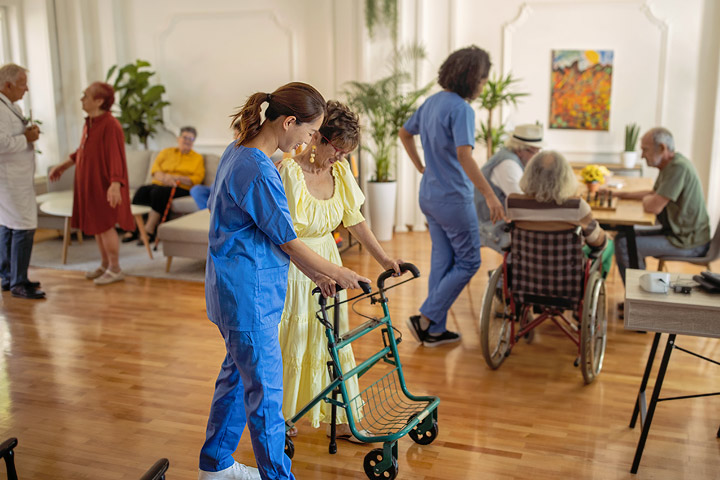 Assisted living facilities have complex security needs as they must keep patients, staff, and equipment safe and secure while making it easy for patients to receive visitors around the clock. At the same time, these facilities must follow strict regulations put in place by the state. Here's a look at the top security challenges for assisted living facilities.

Visitor management
Convenient and secure visitor access is essential for any assisted living facility. An access control system enables staff to quickly grant access to authorized visitors. Depending on the security of the ward, visitors may use a special access code to enter the facility, or a staff member may grant access manually. Integrating video surveillance with access control makes it easy to see exactly who has entered the unit at any given time.
Patient safety and security
Depending on the stage of the disease, a patient living with Alzheimer's can deal with issues including judgment, sense of time and place, physical ability, and behavior. Some residents may feel compelled to leave the facility, which can be risky if they are experiencing dementia or physical disabilities.
In-room monitoring can also benefit patient safety, especially for those with mobility issues. Motion detectors within patient rooms can alert staff if a patient has fallen out of bed or exited their room.
Building security and surveillance
Protecting the health and welfare of those living in assisted living facilities is especially important as they are often unable to care for and protect themselves.
Implementing access control for the front door of the building and each ward within the facility makes it possible to keep track of who is coming and going from the facility at any given time. Video surveillance on the perimeter of the building makes it easy to identify whether any patients have exited on their own.
Perimeter access control also helps keep unwanted visitors and trespassers out and deters thieves and vandals. Cameras can monitor hallways, elevators, rooms, exits, and parking lots to capture any suspicious activity that occurs on the property.
Regulations for Assisted Living Facilities
Assisted living facilities are regulated by individual states, not the federal government. The specific regulations you need to be aware of depend on where your facility is located. Assisted living facilities can provide personalized assistance with activities in daily living and healthcare, generally excluding hospital-level care.
American Alarm can help you determine the best security measures for your assisted living facility to help you comply with your local regulations and create the safest environment for residents. Implementing these security and surveillance measures puts everyone's mind at rest, as families of potential residents place great importance on knowing their loved ones will be safe.
NEXT STEPS:
https://www.americanalarm.com/wp-content/uploads/2023/06/assisted_living.jpg
480
720
alarmadmin
https://www.americanalarm.com/wp-content/uploads/2022/12/American-Alarm_logo_1Xr.png
alarmadmin
2023-06-15 08:30:01
2023-06-07 13:30:42
Healthcare Series: Top Security Challenges for Assisted Living Facilities