4 Simple School Bus Safety Tips to Share With Your Kids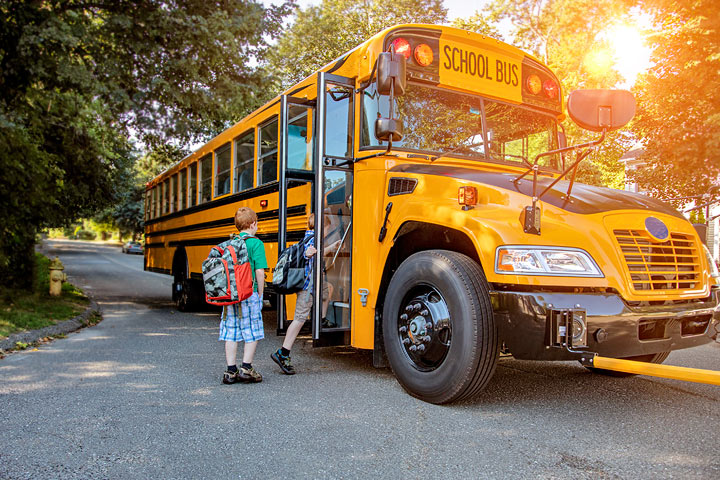 February 22nd is National School Bus Driver Appreciation Day, which honors school bus drivers for their dedication to getting kids to and from school safely. What better way to celebrate our school bus drivers than by teaching our children some simple bus etiquette to help make the bus drivers' jobs easier?
Here are some basic school bus safety tips to go over with your kids.
Cross the street safely when getting off the bus
Crossing the street in front of the bus is the safest option for children. The bus driver will keep a watchful eye and signal to other vehicles that they must stop to let the children cross the street.
Instruct your child to walk at least 10 feet ahead (or five giant steps) in front of the bus so the bus driver can see them crossing the street. An easy way to measure whether they're in the right position is to ensure they can make eye contact with the bus driver from their crossing position.
Wear reflective clothing on dark days
Remind your children that drivers may struggle to see them in poor weather conditions if they wear dark-colored clothing. Add reflective strips to your child's outerwear and backpack to help them stand out in low light. Advise your child not to cross the street unless they're confident that the drivers of any oncoming cars can see them and are stopping.
Reflective clothing will also help the bus driver spot children waiting at the bus stop in low light!
Wait at a safe distance from the curb
School buses may occasionally run over the curb as they approach the bus stop, so children should never stand and wait for the bus on the edge of the curb. Teach your child to stand at least six feet (three giant steps) back from the curb when waiting for the school bus.
Sit down when the bus is moving
It's easy for children to lose their balance when standing up on a moving bus, as drivers must start and stop often. Remind your child to remain seated for the duration of their bus ride. They shouldn't stand until the bus has come to a complete stop.
The Bottom Line
Even though they ride the school bus daily, children may become complacent about certain safety precautions. It never hurts to offer a quick safety reminder, especially when it comes to conducting themselves around moving vehicles. Knowing you and your child are on the same page regarding safety protocols is sure to offer you peace of mind.
If you have older children coming and going from school without supervision, remember that you can program your access control system can send you an alert when your kids have entered the home using their unique passcodes. With these alerts in place, you'll know in real time that your kids have arrived home safely.
NEXT STEPS:
https://www.americanalarm.com/wp-content/uploads/2023/02/bus_safety.jpg
480
720
alarmadmin
https://www.americanalarm.com/wp-content/uploads/2022/12/American-Alarm_logo_1Xr.png
alarmadmin
2023-02-22 08:35:31
2023-02-22 11:56:09
4 Simple School Bus Safety Tips to Share With Your Kids