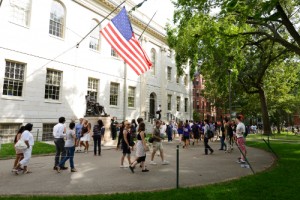 As college students settle into their dorm rooms anticipating the fun and excitement that comes with the start of a new academic year, there's one thing they may not be anticipating—campus crime.
According to the Boston University Police Department (BUPD), there's a spike in crime on university campuses during the first two months of the school year. The most common crime on campus is theft, particularly of items students left unattended, says Scott Paré, deputy director of public safety and BUPD deputy chief. However, more serious offenses also occur.
From January 2015 to August 25, 2015, BU police received reports of 17 simple assaults, four aggravated assaults, three indecent assaults, one rape, seven burglaries, one robbery, and 209 larcenies, including 13 car break-ins and 39 bike thefts, Paré notes, adding that the crime rate at BU is very low.
If you're a college student, worrying about being the victim of a crime is probably not keeping you awake at night. However, you should still be prepared just in case.
Here are four tips to help you stay safe on campus:
https://www.americanalarm.com/wp-content/uploads/2022/12/American-Alarm_logo_1Xr.png
0
0
American Alarm Blogging Team
https://www.americanalarm.com/wp-content/uploads/2022/12/American-Alarm_logo_1Xr.png
American Alarm Blogging Team
2015-09-14 08:55:18
2015-09-14 08:55:18
Campus Safety Tips for College Students