Campus Safety Tips for College Students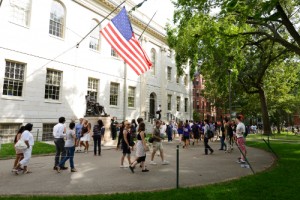 As college students settle into their dorm rooms anticipating the fun and excitement that comes with the start of a new academic year, there's one thing they may not be anticipating—campus crime.
According to the Boston University Police Department (BUPD), there's a spike in crime on university campuses during the first two months of the school year. The most common crime on campus is theft, particularly of items students left unattended, says Scott Paré, deputy director of public safety and BUPD deputy chief. However, more serious offenses also occur.
From January 2015 to August 25, 2015, BU police received reports of 17 simple assaults, four aggravated assaults, three indecent assaults, one rape, seven burglaries, one robbery, and 209 larcenies, including 13 car break-ins and 39 bike thefts, Paré notes, adding that the crime rate at BU is very low.
If you're a college student, worrying about being the victim of a crime is probably not keeping you awake at night. However, you should still be prepared just in case.
Here are four tips to help you stay safe on campus:
1. Don't let technology distract you
Don't zone out listening to music on your headphones, or talking/texting on your smartphone, especially at night. The key to staying safe is being aware of your surroundings. So unplug and pay attention to what's going on around you.
2. Keep your doors locked
Friendly interaction with your floormates is great, but leaving your door unlocked is just inviting trouble. If you're running down the hall to take a shower or to watch TV with a friend be sure to lock up. Leaving your door unlocked is an open invitation to theft. It's especially important to keep your door even when you're in your room.
3. Use the buddy system late at night
If you have late classes, if you're coming home from a party, or if you have to walk back to the dorm when it's dark for any other reason, don't go it alone. Team up with a friend and walk in well-lit areas. If your campus police have an escort service, like BU police do, call them.
4. Too much sharing is a bad thing
Think twice—or even four times—before you post your personal information on Facebook, Twitter, Instagram, Foursquare, or any other social media site. Don't update your schedule, e.g., don't post where you'll be and when. Sharing your information online with your friends, means you're also sharing it with a bunch of strangers—strangers who could potentially track you down to rob you or worse.
There are no guarantees that you won't be the victim of campus crime, but if you take the proper precautions, there's a better chance that you'll be safe rather than sorry.
Next Steps:
https://www.americanalarm.com/wp-content/uploads/2022/12/American-Alarm_logo_1Xr.png
0
0
American Alarm Blogging Team
https://www.americanalarm.com/wp-content/uploads/2022/12/American-Alarm_logo_1Xr.png
American Alarm Blogging Team
2015-09-14 08:55:18
2015-09-14 08:55:18
Campus Safety Tips for College Students