Top 5 Home and Business Security Posts of 2013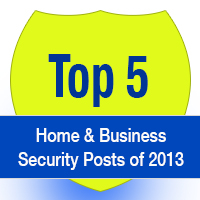 It's the end of the year and time for a look back at the Top 5 Home and Business Security Posts of 2013. This year we saw a focus on keeping homes and valuables safe in the most-read content from our blog. Each post below offers some great tips to add to your calendar as we start a new year. Here's a look at our top five posts of 2012.
Number 5: Is a Dialer Delay in Your Home Putting You at Risk?
The all-in-one security system is attractive, but many systems include a four-minute notification delay to avoid false alarms. This post explores how thieves can rob you blind in four minutes and why you need to question your alarm company about such a delay.
Number 4: 10 Tips to Prevent Home Break-Ins
With more than 2.1 million break-ins each year, it's important to protect your home from what the feds call "opportunist thieves." You need to think like a thief to prevent theft in your home. A few of the best tips:
Invest in doors, locks, and a home security system.
Secure your windows and sliding doors.
Watch your trash. Don't just put that new appliance box at the road, it shows thieves you have expensive goods inside.
Number 3: Top 5 Tips to Burglar-Proof Your Home for Vacation
It's tempting to tell everyone you're going out of town — especially on that second honeymoon to Hawaii — but keep it to yourself until you get back. Save the pictures. Lock down your Facebook account, and call your home security system provider. Read on for more tips on how to enjoy your vacation and keep your home safe.
Number 2: What to Do After a Break-in Occurs at Your Home
It's violating, scary, and can take a long time to clean up the police, insurance, and personal financial details. The best way to deal with a break-in is to be prepared. If it ever happens, there are several things you need to do right away and this post gives you tips for getting your security back after the incident.
Number 1: Business Security: 10 Tips to Prevent Shoplifting
The most recent stats on shoplifting show it's a nearly $11 billion problem for retailers. That's no chump change, especially for smaller businesses. This post, which was our most popular of 2013, gives you the ins and outs for protecting your bottom line from covering lost goods — including investing in an efficient business security system. One of our favorite tips is to keep your employees engaged with customers at all times. It helps you increase sales and decrease theft!
Thanks for being a loyal American Alarm blog reader in 2013. We look forward to bringing you more home and business security tips in the year to come.
Next Steps:
https://www.americanalarm.com/wp-content/uploads/2022/12/American-Alarm_logo_1Xr.png
0
0
American Alarm Blogging Team
https://www.americanalarm.com/wp-content/uploads/2022/12/American-Alarm_logo_1Xr.png
American Alarm Blogging Team
2014-01-06 08:55:49
2017-04-27 15:05:37
Top 5 Home and Business Security Posts of 2013