What to Do After a Break-In Occurs at Your Home
A break-in is one of a homeowner's worst nightmares. Arriving home to find your belongings strewn across the floor and your valuables missing can leave you feeling afraid and angry. It shatters your sense of security. Also, it might take a long time – if at all – before you ever feel safe in your home again.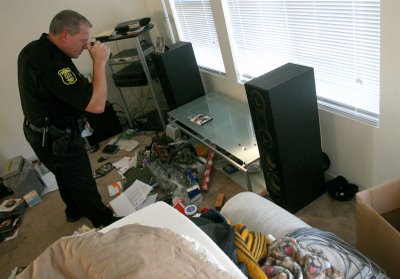 As we mention in our previous post, "10 Tips to Prevent Home Break-Ins," 73.9% of the 2,159,878 burglaries committed in 2010 were residential property burglaries, according to the Federal Bureau of Investigation.
While the first line of defense is prevention, not every break-in is avoidable. That's why you should have a plan in place in case one does occur. If you are the victim of a home break-in, you'll probably go into shock and be unable to make clear decisions. Having a plan at hand can help you and your family members through this frightening time.
What To Do/Not Do
The first and most important rule is DO NOT enter the home if you suspect a break-in. If you enter the home and discover it has been burglarized, leave immediately. Remain outside the home, preferably in a locked vehicle, in case the burglar is still on the property. Call 911 on your cell phone, or go to a neighbor's home and call 911.
Do not tamper with evidence. If you do make it into the home before you discover the break-in, do not touch anything on the way out. Your home is a crime scene; touching something may contaminate or destroy the evidence.
Once the police let you back inside the home, look for missing items and make a detailed list, including the description of the items, and serial numbers. Include photographs, if you have them. You will need to provide this list to the police and your insurance company.
Notify the police if you notice anything in the home that is not yours; it may be evidence.
Try to recall if anyone has recently visited the home (such as a repair person), or if you know of any suspicious activity that may be related to the break-in. Provide this information to the police.
Contact your insurance company. Provide the company with the detailed list of stolen items, as well as a copy of the police report.
Contact bank and credit card companies to close accounts if credit cards, checks or items containing bank account information are stolen.
Seek crime victim compensation, if available in your city. If the criminals are caught and convicted, they will have to compensate you for any damage they caused.
Immediately fix any broken windows or doors to prevent easy re-entry. Install new locks, in case any keys are taken from the residence.
Follow the tips in our home break-in prevention post. If you don't have a home security system, install one. If you do have a home security system, but it's not connected to a monitoring service, add the service.
Get to know your neighbors and participate in a neighborhood watch program.
Talk to a licensed therapist if you experience intense fear, anxiety or depression. Installing a security system and taking other security measures may help you and your family members feel more at ease.
Be Prepared, Just in Case
Be sure that you understand what is included in your homeowner's insurance coverage in the event of a robbery. Maintain a home inventory of all your valuables. Take the inventory yourself or work with an asset inventory protection company. Keep photographic records of your assets and record serial/model numbers for high-end merchandise such as electronics, appliances and tools. Scan copies of receipts, appraisals or other important documents. Perform a video tour of your home, recording all assets located in it. Store the video, photos and scan files in a safe deposit box away from the home.
Contact your local police to ask if they operate a home inventory program. Programs like Kodiak, Alaska's Operation Identification help citizens engrave property to discourage theft.
https://www.americanalarm.com/wp-content/uploads/2022/12/American-Alarm_logo_1Xr.png
0
0
American Alarm Blogging Team
https://www.americanalarm.com/wp-content/uploads/2022/12/American-Alarm_logo_1Xr.png
American Alarm Blogging Team
2012-10-22 08:55:40
2012-10-22 08:55:40
What to Do After a Break-In Occurs at Your Home