Top 5 Tips to Burglar-Proof Your Home For Vacation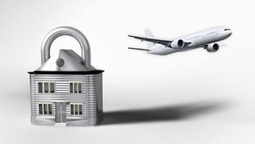 Spring vacation is a time-honored rite for families across the country. But before you pack up and head out to get away from it all, it's important to be sure that your home is well protected from potential break-ins.
An empty house can be a tempting target for burglars, so we've put together a quick and concise checklist of the top five security tips that can help you keep your property safe in your absence.
Ditch the hidden house keys. Most people keep spare keys hidden somewhere handy outside their homes just in case they lock themselves out. Some people even write their alarm codes on pieces of paper and hide them for visitors to use. Even the best home security system and door locks can't keep out a thief who has the keys – and codes – to the castle. Before you leave for vacation be sure to collect any hidden keys (and the paper copy of your alarm code) and store them somewhere safe inside the house until you return.
Keep the lawn mowed and the pile of mail small. One of the key aspects of reducing the chance that your home will be a target for burglars is to give the impression that you haven't actually gone anywhere at all. An unruly lawn and a stack of mail or newspapers are clear indications to thieves that no one is around. Ask a neighbor or a friend to pick up your mail for you while you're gone, and suspend your newspaper delivery. If you're taking a longer trip you might want to consider having a landscaping service mow your lawn at least once.
Use timers. In keeping with the same "lived-in" theme, it's a good idea to install a few timers around your house that can turn radios, lights and televisions on and off to simulate your normal habits at night. If a bad guy passing by sees a light on and hears the sounds of voices coming from your home, he's far less likely to scope it out as a potential robbery target. However, a dark and quiet house is only inviting disaster.
Don't advertise your vacation. We know you're excited about your upcoming trip, but other than friends and family there's no reason to spread the word that you're going to be out of town. This doesn't just imply that you should keep a tight lip around strangers – it also means not recording an outgoing voice mail message that lets callers know exactly how long you'll be gone, or that you've left at all. And don't let all your Facebook friends know you'll be away. Don't tweet the news, either. You can tell everyone all about your trip when you get back.
Call your home alarm system provider. You should definitely tell the people at your home alarm system company that you're going on vacation. Let them know you'll be away from your property for a specific period of time and if there will be anyone going into the home while you are away. This information will help the operators respond to any signals received from your home while you are away.
https://www.americanalarm.com/wp-content/uploads/2022/12/American-Alarm_logo_1Xr.png
0
0
American Alarm Blogging Team
https://www.americanalarm.com/wp-content/uploads/2022/12/American-Alarm_logo_1Xr.png
American Alarm Blogging Team
2012-04-13 10:45:41
2012-04-13 10:45:41
Top 5 Tips to Burglar-Proof Your Home For Vacation