How to Setup Your Security System in Your New Home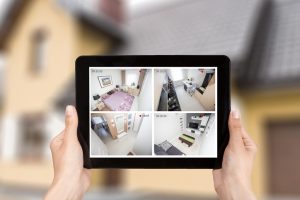 Earlier this month we shared three reasons to update your home's security system prior to selling. Now we'll discuss moving into the home of your dreams. You've got the white picket fence, beautifully landscaped flower beds, and the big grassy backyard perfect for kids and a dog. Everything is in place for you to begin the rest of your life. Or is it?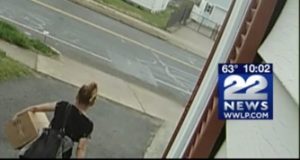 When you first move to a new home is the perfect time to have security cameras installed or updated. And not just for your own safety, but also for the safety of your neighborhood. For example, in Springfield, Massachusetts residents were warned about packages being stolen in their neighborhood after a theft was caught on a security camera last week.
Setting Up a Security System
There are several considerations to make when choosing a security system for your home such as the types of cameras, where to install each camera and including an alarm system.
Video Camera vs. Surveillance Camera
Cameras may scare off petty crooks, but some are brazen enough to ignore them. Video cameras can record suspicious activity and provide valuable evidence to law enforcement after a crime is committed. But surveillance cameras can provide 24-hour live streaming and alert authorities if someone suspicious is at your home in real time. You may make more of an investment up front, but they can save you money in stolen or broken belongings down the road. So it's a choice you and your family need to make based on your needs.
Location, Location, Location
Similar to buying a new home, location is everything when setting up your security cameras. Placing cameras near your front door will allow you to see anyone that tries to enter your home or steal packages. Placing cameras near garages or vehicles can give you eyes in hard to see places. Other key locations are the backyard or back door entrances.
The location of the camera lens itself is also important. Here are two camera angles to avoid: 
Extreme top-down angle – An extreme top-down angle will allow you to view the top's of a trespasser's head but not allow you (or the police) to recognize anyone.
Field of view too wide – Today's cameras are great at capturing details only if the field of view is not too wide to focus in on the detail of any event or trespasser.
Adding an Alarm System
Video cameras are a good start but adding an alarm system is the best way to secure your home. Especially when you are new to a neighborhood. A blaring siren can send a burglar running, and a monitored alarm system can alert you the second someone tries to break into your home. So while the alarm may be loud, even the boldest of criminals will start running when they see those red and blue lights flashing.
No one wants to tell their kids that they can't open the door without an adult or ride their bike down their street. Having a safe and secure home and neighborhood are part of our quality of life.  A home security system can give you the peace of mind you need especially when placing cameras strategically, opting for round the clock monitoring or adding an alarm system. You can now enjoy your new home and know your family and packages are secure. 
Next Steps
https://www.americanalarm.com/wp-content/uploads/2022/12/American-Alarm_logo_1Xr.png
0
0
American Alarm Blogging Team
https://www.americanalarm.com/wp-content/uploads/2022/12/American-Alarm_logo_1Xr.png
American Alarm Blogging Team
2018-05-18 10:41:09
2018-05-24 12:30:30
How to Setup Your Security System in Your New Home