How to Protect Your Home or Condo Complex from Holiday Package Thieves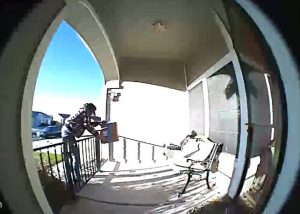 This year in the 25 days between Thanksgiving and New Year's Eve, UPS says it will deliver over 750 million packages to its customers. In fact, UPS says this record-breaking seasonal global delivery volume is approximately 5 percent above last year's holiday peak shipping season volume.
FedEx, which also anticipates another record peak holiday shipping season, estimates it will deliver between 380-400 million packages. In the period between Thanksgiving and New Year's Day, the U.S. Postal Service also expects to deliver 850 million packages, which is more than a 10 percent increase compared to the same period last year.
While that's the good news for UPS, FedEx and the Postal Service, it may be bad news for recipients who don't take precautions to protect their packages from porch thieves.
According to a new study from insuranceQuotes.com, 25.9 million Americans (8%) have had holiday packages stolen from their front porches or doorsteps – up from the 23.5 million porch thefts reported in 2015. Police also say that these thieves steal packages from unattended lobbies of apartment and condo buildings.
Here are some steps you can take to protect your packages from these porch thieves:
Enhance access control in your complex or home by enforcing thorough sign-in and/or access procedures.
Install a home video surveillance system with a digital video camera.
Ask your security company if it offers 24/7 video monitoring.
Install a secure delivery drop box, such as Landport, on your porch or stoop.
Have packages delivered to your workplace.
Request signatures on your deliveries, especially the most valuable ones, so they're not left unattended.
Redirect packages, even if they're already on their way.
Set up a vacation hold if you'll be away during the holidays so gifts won't be delivered to an empty house.
Inform your neighbors. Vigilance of neighbors is a vital asset to any home or building security plan.
If you follow the tips, you'll keep the grinches from stealing your packages and your holidays.
NEXT STEPS:
https://www.americanalarm.com/wp-content/uploads/2022/12/American-Alarm_logo_1Xr.png
0
0
American Alarm Blogging Team
https://www.americanalarm.com/wp-content/uploads/2022/12/American-Alarm_logo_1Xr.png
American Alarm Blogging Team
2017-12-05 11:36:53
2017-12-13 22:35:29
How to Protect Your Home or Condo Complex from Holiday Package Thieves