How to Secure Your Server Room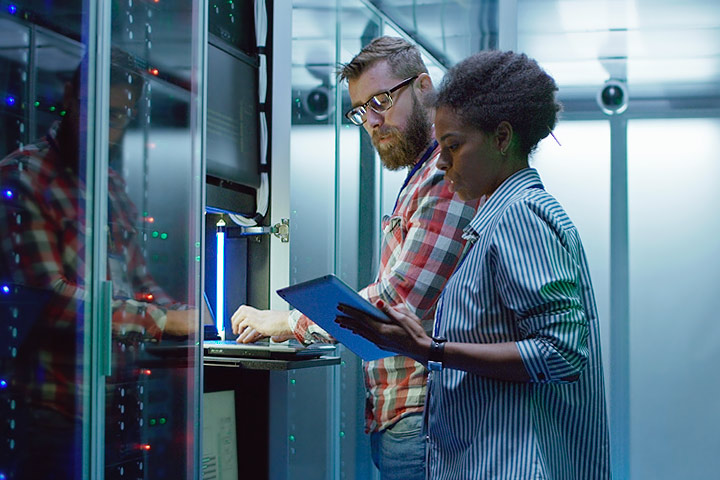 Servers are responsible for storing critical company data and backups that support workplace systems and productivity, so protecting them is essential. A server room security strategy will protect your valuable equipment from environmental changes, tampering, or accidental damage. Here's how your commercial security system can help protect your server room.

Environmental monitoring tracks server room climate
Server rooms house computer equipment that generates heat while in use. Maintaining an optimal temperature is crucial to prevent overheating and potential crashes, which could disrupt business operations.
Environmental monitoring systems can track changes in temperature and alert you if the room's climate falls outside of an ideal range. These systems can also alert you to potential floods or dramatic changes in moisture levels within the room that may harm the equipment.
Access control limits who can enter the server room
Because server room equipment is so valuable and plays such a vital role in your business operations, insulating it from accidental or malicious damage is paramount. An access control entry point in your server room lets you keep track of who comes and goes from the space.
With access control in place, only employees with the appropriate security permissions can access the room. Your system will record each person who has entered and exited the space, making it easy to track employee movement.
Because access control is managed through a digital platform, it's easy to enable or revoke access permissions instantly, removing the risk of former employees or technicians entering the server room.
Two-factor access control (2FA)
Consider enabling a dual-factor (or two-factor) access control protocol for additional protection. This prevents employees from sharing (or stealing) keycards or access codes to enter the server room.
With dual-factor access, employees would need to scan their keycard and enter their unique PIN to gain entry to the server room.
Video monitoring and analytics add another layer of protection
Video monitoring is a powerful asset for securing your server room. Positioning cameras within the space enables live video monitoring, so you can see what occurs whenever an individual enters the room.
You can layer video monitoring with your access control system for more robust protection at server room entry points. This way, you'll be able to verify in real-time (or later on) that each person who entered the server room was using their own PIN or keycard and not someone else's.
Video analytics can protect your server room, too. Using facial recognition software, video systems can flag when individuals enter the room and alert you if they are not authorized to be there. This can be beneficial for protecting against vandalism or tampering within the server room.
The bottom line
Server rooms are important to commercial operations, so keeping them safe from tampering, accidental damage, or environmental disturbances is crucial. American Alarm can work with you to develop a server room security plan that suits your organization's needs.
NEXT STEPS:
https://www.americanalarm.com/wp-content/uploads/2023/07/server_room.jpg
480
720
alarmadmin
https://www.americanalarm.com/wp-content/uploads/2022/12/American-Alarm_logo_1Xr.png
alarmadmin
2023-08-03 08:23:49
2023-07-27 13:04:05
How to Secure Your Server Room