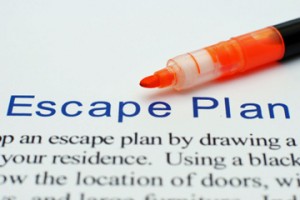 What's the most important thing to do as soon as you know that your home is on fire?
If you answered "evacuate immediately," you get a gold star – getting yourself and your loved ones out of a burning building is the number one priority in the event of a fire.
Despite this fact, most people don't stop to think about the best way to rapidly leave their homes – especially if the home fire alarm system goes off in the middle of the night when most of the family is likely to be sleeping. Knowing where your exits are – and the quickest way to get to them – are two of the most important fire safety tips that you, your spouse, your children, and your guests should be aware of.
In honor of National Fire Prevention week, October 7-13, 2012, here are three important tips to help you and your loved ones get out of harm's way as quickly as possible in the event of a fire. Read more →
https://www.americanalarm.com/wp-content/uploads/2016/11/American-Alarm_logo.png
0
0
American Alarm Blogging Team
https://www.americanalarm.com/wp-content/uploads/2016/11/American-Alarm_logo.png
American Alarm Blogging Team
2012-09-06 15:13:01
2012-09-06 15:13:01
Top 3 Fire Escape Safety Tips