How Stores Can Mitigate Organized Retail Crime this Thanksgiving Shopping Weekend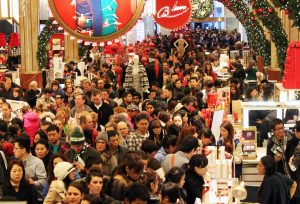 Thanksgiving shopping weekend can be a hectic experience for everyone involved but for your business, it's one of the most profitable. All told, 20 to 30 percent of your 2017 retail sales will likely happen this holiday season with a large portion will occur this weekend.
Of those considering shopping the long holiday weekend, the survey found that 20 percent plan to shop on Thanksgiving Day (32 million). Black Friday will remain the busiest day, with 70 percent planning to shop (115 million).
Unfortunately, for your business, not everyone who's in your store is there to shop. Organized retail crime (ORC) continues to be the number one source of retail theft. This year 67 percent of retailers reported an increase in ORC, according to the 13th annual ORC study released by the NRF last month. According to the report, the vast majority of the thousands of retail businesses surveyed have been victims of ORC. This year 96 percent of businesses surveyed recently experienced ORC.
Last year, ORC accounted for $30 billion in loss, with the average business losing $700,000 per billion on organized retail crime. This year, average losses ticked up to $726,351 per $1 billion in sales. 
Typically perpetrators of ORC are not looking for small ticket items. The point here isn't to steal things for their own personal use. It's to steal for profit. Organized retail criminals might walk out of your store with $40,000 in merchandise in less than ten minutes. They're looking for items that can be fenced or returned for cash. So an $800 purse might go for a $100 on the streets, or they might attempt to return it for the $800 refund. For example, before the holiday season last year a group of thieves robbed an Apple store in Hingham Massachusetts, stealing 22 phones in minutes. A month later, in Natick Massachusetts, a similar-looking group made off with $13,000 in phones in under a minute.
So what can your business do to protect and defend against organized retail crime?
Train Your Team:

Every member of your organization needs to know about organized retail crime. Both your sales team and your security team need to know what to look for, as well as how to respond to organized retail crime in process.
Identify Professional Shoplifters:

Especially if you have more than one location, you can start to identify professional shoplifters who have been hitting your stores. Once there's a known professional shoplifter at one location, the information can be shared with other locations to prevent further loss.
Monitor the Internet:

After a big loss, it's worth checking the Internet for your goods on sale. Sure, organized retail criminals are still using fences and pawn shops to convert their ill-gotten goods into cold, hard cash. But they're increasingly going to the Internet to dump stolen merchandise. Make sure to check local sale websites as well as larger, international websites for missing items.
Increase Coordination:

Security, sales and supply chain should all coordinate in trying to stop organized retail crime. That's because the same teams hitting your cargo are also hitting your stores.
Same Store Return Policy:

A same store return policy won't completely eliminate organized retail crime, but it will make their jobs more difficult. If you want to go this route, post your policy in a conspicuous place so legitimate customers aren't inconvenienced in the process.
Seek Civil Damages:

You should coordinate with local (and, where applicable, federal) law enforcement to catch organized retail criminals on the ground, as well as the fences they do business with. However, you should also be seeking civil redress. This will make organized retail crime far less attractive, helping the entire industry.
Crowd Control:

Avoid language like "doorbuster sales" that encourages customers to literally break your doors down. Consider handing out tickets to people in line and allowing limited numbers of customers into your store at a time to have greater control over your floor space. That's not just going to help you to prevent organized retail theft, it's also going to keep your customers and staff safer.
Keep in mind this holiday season, most shoppers visiting your stores are legitimate customers who are looking to do business. Mitigating organized retail theft doesn't just increase your profits; It also lowers costs for your legitimate customers. When you stop organized retail crime, everybody wins.
NEXT STEPS:
https://www.americanalarm.com/wp-content/uploads/2022/12/American-Alarm_logo_1Xr.png
0
0
American Alarm Blogging Team
https://www.americanalarm.com/wp-content/uploads/2022/12/American-Alarm_logo_1Xr.png
American Alarm Blogging Team
2017-11-21 10:14:25
2017-11-21 10:14:25
How Stores Can Mitigate Organized Retail Crime this Thanksgiving Shopping Weekend