Fire Prevention Week: Do You Have a Fire Escape Plan in Place?
Oct. 8-14 is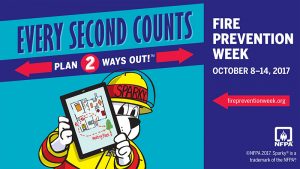 Fire Prevention Week, which stresses the importance of having a home fire escape plan in place.
When it comes to getting out of your house if there's a fire, you really do have to make every second count. In fact, if a fire starts in your home, you only have two minutes to escape because under the right conditions a fire can double in size every minute, according to the American Red Cross.
That's why you should install smoke alarms on every level of your home, at the bottom of every stairwell and outside each bedroom. Test smoke alarms every month and replace the batteries as needed.
It's also critical to develop an escape plan and practice your plan until everyone can evacuate the home in less than two minutes.
"Time and again, I've seen the life-saving impact of having a home escape plan, when firefighters arrive at a fire and see the family outside at their meeting place. Most fatal fires occur in the home, and I've seen the tragedy that can result when people don't get out," said Massachusetts Fire Marshal Peter J. Ostroskey. "That's why we're making a concerted effort to educate Massachusetts residents about the importance of planning and practicing a home escape plan that everyone knows."
To help you plan your fire escape route, American Alarm offers some tips courtesy of the National Fire Protection Association:
The first thing to do is schedule a family meeting to develop your escape plan. You should draw a map of your home and identify two ways out of every room, which could be doors or windows. Then devise a route to the exits and determine a place outside for your family to meet. For example, a street sign, lamp post or a neighbor's mailbox. The meeting place should allow you to see your home but be far enough away so you and your family aren't at risk of injury from smoke or fire.
Practice your escape plan twice a year with everyone in your household, once during the day and once at night. Practice using different ways out.
You should teach children how to escape on their own in the event you can't help them.
As you leave your home, close the doors behind you because this may slow the spread of smoke, heat and fire.
Don't call 9-1-1 until you are safely outside.
Once you're outside, stay there until emergency responders tell you the property is safe. Don't go back inside even if someone is missing. Rather, tell the responders who's missing and where in the house you think that person might be.
Be sure emergency responders can clearly identify your home's street number. If the numbers aren't displayed properly, consider putting them on your mailbox or painting them on the curb.
Every member of your household should memorize the number of an emergency contact such as a family member, friend or neighbor.
If you have house guests, advise them of your fire escape plan and be sure they're comfortable with it. This is particularly important if you're hosting a party for your children or a sleepover.
If someone in your household has mobility issues, you should assign another person to be his or her designated assistant in case of emergency.
In case of a fire, remember to remain calm, follow your fire escape safety plan and pay attention to the directions of the emergency responders.
NEXT STEPS:
https://www.americanalarm.com/wp-content/uploads/2022/12/American-Alarm_logo_1Xr.png
0
0
American Alarm Blogging Team
https://www.americanalarm.com/wp-content/uploads/2022/12/American-Alarm_logo_1Xr.png
American Alarm Blogging Team
2017-10-12 10:07:53
2017-10-12 10:07:53
Fire Prevention Week: Do You Have a Fire Escape Plan in Place?