How to Prevent and Extinguish Electrical Fires in a Commercial Building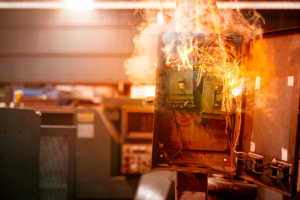 According to the National Fire Protection Association, structure fires in professional buildings account for millions of dollars in property damage each year. Electrical distribution and lighting are the second leading cause of these fires, making up approximately 15% of the total property damage. Taking a proactive approach to fire safety and prevention will lower the likelihood of an unexpected blaze and keep your business and employees safe. Here are some tips for preventing and extinguishing electrical fires in commercial buildings.
Perform regular maintenance on equipment
Equipment that is damaged, dusty, or greasy could be prone to electrical fires. Keep your equipment in good working condition by following maintenance guidelines as recommended by the manufacturer. If you notice anything malfunctioning, contact a technician to have it serviced to prevent it from becoming a hazard.
Dust and grease may clog vents on equipment such as industrial exhaust fans, which can then lead to overheating and cause fires. If you notice this buildup on any devices within your workplace, clean them promptly. 
Have your electrical system inspected after any environmental changes
Environmental changes such as a flood or a significant storm could damage equipment and your building's electrical infrastructure and lead to malfunctions that result in an electrical fire. If any major environmental changes have occurred, have a licensed electrician inspect your system and verify it is functioning correctly.
They should evaluate the following:
Circuit breakers

Fuses

Wiring

Transformers

Switchboards

Switches
Don't overload extension cords or power strips
Extension cords are commonly used to power workstations, particularly in office buildings, but they can be dangerous when overloaded. An overloaded extension cord could melt, burn wires, or create sparks that cause a fire. 
When using extension cords and power strips in your workplace, follow their ratings and use guidelines. If in doubt, refer to the wattage labels on the appliances you intend to plug into the cord and ensure that they don't exceed your extension cord's rating.
Electrical work should only be done by a professional
Ensure that any electrical work or maintenance performed within your workplace is done by a licensed electrician. Electricians have the skills to evaluate how to best arrange power sources and equipment within your workplace for safety and functionality. A professional electrician will have the latest training on electrical codes and best practices and take care to ensure that work is done safely and correctly.
How to put out an electrical fire
The most important thing to remember about electrical fires is that they should not be extinguished with water. Water is an electrical conductor, and pouring it on an electrical fire could cause electrocution. Instead, use these tips:
If possible, cut the power to the equipment involved in the fire.

Smother the fire (if it's small enough) with a fire blanket or a Class C fire extinguisher 
If you don't have the tools you need or the fire is out of control, evacuate the area and call 911. 
The Bottom Line
Electrical fires are typically the result of overloaded circuits, faulty wiring, or malfunctioning equipment. With this in mind, regular maintenance and fire safety audits are essential for preventing these fires. While a commercial fire alarm system will ensure help is dispatched in an emergency, holding regular fire safety briefings with your staff will help them stay proactive about preventing fires.
NEXT STEPS:
Stay up to date on security topics such as home alarm systems, business security systems, video surveillance systems, IP video networks, remote video monitoring, fire alarm systems, and fire alarm inspections.
https://www.americanalarm.com/wp-content/uploads/2022/12/Electrical-Fire.jpg
480
720
zac
https://www.americanalarm.com/wp-content/uploads/2022/12/American-Alarm_logo_1Xr.png
zac
2023-01-12 14:32:22
2023-01-12 14:32:22
How to Prevent and Extinguish Electrical Fires in a Commercial Building