13 Tips to Help New Parents Baby Proof Their Homes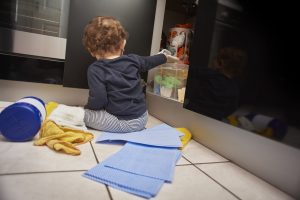 As a first-time parent, you're probably overwhelmed by all the challenges of caring for your beautiful bundle of joy. However, before you know it your baby will be crawling, walking, climbing and getting into just about everything.
That's why it's important to make your home safe for the new addition to your family. You should set aside some time – probably a weekend – to walk through your house, room by room, making a list of the things that need to be baby proofed. Then take the necessary steps to secure your home to keep your baby safe.
Here are some tips to help you baby proof your home:
Keep your bathroom door shut and locked (use a hook-and-eye lock out of baby's reach) and your toilet covers secured with child-proof locks to prevent drowning.
Store medicines and supplements out-of-reach or invest in a medicine cabinet that you can lock.
Remove blankets, bumpers, pillows, blankets, pillows and stuffed animals from your baby's crib because those items can suffocate your child. Additionally, you should remove mobiles with hanging parts as soon as your child can pull himself or herself upright.
Place safety gates at the head and foot of your stairs.
Cover electrical outlets with sliding outlet covers rather than plastic covers which can be choking hazards.
Use latches for cabinets and drawers that contain harmful products
Don't keep kitchen cleaning supplies and detergents in low cabinets, even if you have secured them with safety latches. Don't keep sharp object, small objects, plastic bags or other chocking and suffocation hazard in low drawers.
Set your hot-water heater below 120 degrees Fahrenheit to prevent burns.
Store toys in an open toy box so there is no lid to slam down on your baby's fingers.
Keep your pet's dry food out of baby's reach. If possible, stand by as your pet eats then immediately remove the bowl.
Check window coverings in your home and replace those that have cords with safer cordless coverings or that have cords that your baby can't access.
Vacuum regularly to pick up loose change, paper clips, or other small items.
Cover heating vents and radiators to keep your baby from getting burned.
Following these safety tips can help you prevent accidents at home and keep your baby safe once he or she becomes mobile.
NEXT STEPS:
https://www.americanalarm.com/wp-content/uploads/2022/12/American-Alarm_logo_1Xr.png
0
0
American Alarm Blogging Team
https://www.americanalarm.com/wp-content/uploads/2022/12/American-Alarm_logo_1Xr.png
American Alarm Blogging Team
2017-09-27 12:59:37
2017-09-27 12:59:37
13 Tips to Help New Parents Baby Proof Their Homes