Outdoor Hiking Safety Tips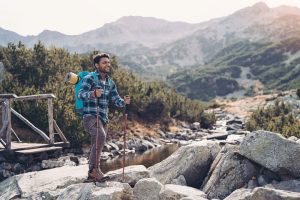 Hiking and backpacking are fun, adventurous pastimes, but they do not come without their share of risk. Avoid any potential dangers this season by following these simple outdoor hiking safety tips. A little preparation and mindfulness will help each of your outdoor excursions to be successful. 
Hiking Safety Tips
Carry the Proper Mapping Tools
Pack GPS technology as well as a traditional map and compass while out on the trail. This will cover you in areas where there is limited service or your battery runs out. Learn how to use your technology and familiarize yourself with the map before you go to ensure that you are ready for the hike ahead.
Don't Hike Alone
Even if you have hiked a certain trail a number of times, it is best to hike with at least one other person to provide backup for any issues that may arise. While out on the trail, don't allow yourselves to wander away from each other. Make sure you have an emergency plan in place and that everyone has enough supplies packed with them in case someone does get separated.
Make a Gear List
A major rookie mistake is to underestimate or overestimate the amount of equipment and supplies you need for a hike. If you're just going for a day, this may not be a real issue. However, if you've planned a hike that requires overnight camping, you will want to research what you will need before you go. The "Ten Essentials" list is always a great resource to use when planning what to bring on any hike.
Hike During the Day
It is best practice to hike only during daylight hours and to leave yourself enough time to set up camp before darkness sets in. If you're only going for the day, make sure you time your hike in order to make it back before the sun sets.
Know the Area
There are several key questions to ask before you head out on the trail. You can research the answers on your own, or you can check with the local parks department to learn more details about the area in which you'll be hiking. These questions include:
What wild animals are present in the area?

What poisonous plants exist on or near the trail, and how can you identify them?

What is the weather going to be like?

Are there any special hiking alerts of which to be aware?

Also consider tides and surf forecasts if you're going to be near the ocean
Know the answer to these questions before you go, and adjust your plans in accordance with the information you find.
We also have a post on camping safety tips.
When you're out of the house hiking, trust American Alarm to keep your home safe with our home video surveillance and integrated home security systems. View any of your home cameras from your smartphone. Find out more here.
NEXT STEPS:
Contact us today to learn more about outdoor safety.
Stay up to date on security topics such as home alarm systems, business security systems, video surveillance systems, IP video networks, remote video monitoring, fire alarm systems, and fire alarm inspections.
https://www.americanalarm.com/wp-content/uploads/2021/04/Hiker-crossing-a-mountain-stream.jpg
480
720
zac
https://www.americanalarm.com/wp-content/uploads/2022/12/American-Alarm_logo_1Xr.png
zac
2021-04-15 13:13:51
2021-04-15 13:14:42
Outdoor Hiking Safety Tips