Fire Detection/Prevention: Getting the Alarm and Getting it Right
October 6 is Fire Prevention Week in North America, and it's an appropriate occasion to think about how we can ensure our loved ones, homes, and property can be better protected. At American Alarm, we take the danger of fire especially seriously: A deadly fire's aftermath was the reason why the company was launched.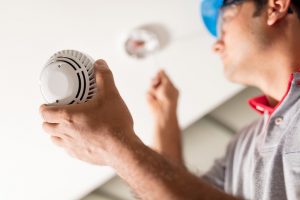 Fire remains a very real threat in New England, and beyond. An alarm (preferably with a monitoring service) is a proven way of proactively detecting the presence of smoke before the fire is out of hand. For instance, this past September, an empty Waterford, Connecticut house was engulfed in flames before neighbors could report the blaze and the fire department could locate it.
Finding the Fire to Fight
According to local news media, the homeowner was at work when the fire began. The location of the house, set back from the road, made it difficult for neighbors to pinpoint the fire's origination.
By the time the firefighters arrived, the house was largely ruined. "When we first got the call, no one could give us an address," said the Waterford fire services director. After the first responders arrived, it only took about 20 minutes to get the fire under control. 
False Alarms Increase Risk
There is also the problem of false alarms, something that wastes resources and time, and potentially diverts first responders from live fires. Ultimately, repeated false alarms can result in penalties, or in a fire department to ceasing to respond in a timely way, among other undesirable consequences.
For instance, the town of Carlisle, Massachusetts found the incidence of false alarms so high (10 percent of all fire alarm calls) that it had to create a new fire alarm response policy. If a resident triggers or calls in a false fire alarm three times in a year, the town will assess a fee of $300.
The policy notes the false alarms are typically preventable, and are triggered by such things as cooking incidents, power surges, fireplace smoke, and so on.
Get the Right System in the Right Place
However, these false alarms are also often caused by substandard fire monitoring solution installations and maintenance, according to an article in "Facility Executive." Alarm systems must be regularly tested each year to make sure they are fully operational. Failure to do so increases the risk of malfunction.
Also, the implementation team must have the expertise to deploy the right systems to the right locations in a house or business. The article quotes an expert saying: "I have seen many causes of false and nuisance alarms over the years. Improperly located smoke detectors too near heating and air conditioning vents, too close to cooking appliances, smoke detectors used where there should have been a heat detector, and others."
If you are looking to protect your property, business and loved ones, consider procuring an alarm system from a proven vendor. Add in expert 24/7 monitoring services for extra measure. This way, Fire Prevention Week will pass by uneventfully.
Next Steps
https://www.americanalarm.com/wp-content/uploads/2022/12/American-Alarm_logo_1Xr.png
0
0
American Alarm Blogging Team
https://www.americanalarm.com/wp-content/uploads/2022/12/American-Alarm_logo_1Xr.png
American Alarm Blogging Team
2019-09-30 14:59:02
2019-10-02 12:00:23
Fire Detection/Prevention: Getting the Alarm and Getting it Right