Burglar's Best Friend and Other Silly Security Stories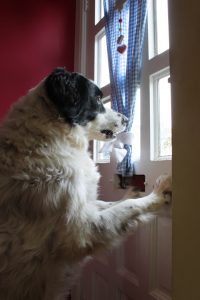 Security is a serious matter. That doesn't mean we can't relax a bit in the summer heat and recollect some of the oddest New England home and business intrusion stories.
Here is a brief list of some of the most interesting encounters we've found between local felons, furry friends and property. Some were caught on camera, while one incident was apparent only by the evidence left behind.
The friendly watchdog
:
In May 2018, while under camera surveillance, a burglar entered a Milton, Massachusetts, house, only to be greeted by a family dog, "which merrily wagged its tail as it followed the intruder from room to room." The perpetrator covered his face, realizing he was being recorded. Upon finishing his tour of the house, the burglar left, calling the dog inside the house after the canine had wandered outside. This story may have a friendly twist to go with it, but it's a reminder that your furry companions alone may not be the best investment for home security. 
Lost puppy reunited
:
Last July, a Holyoke, Massachusetts, puppy escaped from its owner's property and was nearly struck by a car. A passerby brought it home, thinking the dog was a stray. However, a neighbor's security camera captured this passerby "appearing to lead the dog down the street." After the footage was posted on Facebook, someone recognized the passerby, and reached out and recovered the dog.
The strolling beavers
:
Last November, two beavers were caught on camera in a Fitchburg, Massachusetts, store. NECN noted that they entered through the automatic sliding doors, attempting to escape the chilly air outside. One left right away, while the second beaver "stuck around for a bit" and even was caught on cellphone camera. Apparently becoming camera shy, the second beaver joined its companion in the night.
The neat intruder:
A Marlborough, Massachusetts, man reported last spring an intruder had entered his home and cleaned the bathrooms and bedrooms and made the beds. While this wasn't filmed, the evidence was fairly solid. It included "eerie roses fashioned out of toilet paper in the bathrooms," that had been left behind, the New York Post reported. Someone from a cleaning service was likely dispatched to the wrong address, but while a free cleaning may seem nice, consider installing an alarm system if you don't want this happening to you.
Next Steps:
https://www.americanalarm.com/wp-content/uploads/2022/12/American-Alarm_logo_1Xr.png
0
0
American Alarm Blogging Team
https://www.americanalarm.com/wp-content/uploads/2022/12/American-Alarm_logo_1Xr.png
American Alarm Blogging Team
2019-07-10 13:21:29
2019-07-10 13:22:35
Burglar's Best Friend and Other Silly Security Stories