Why You Should Think Like a Burglar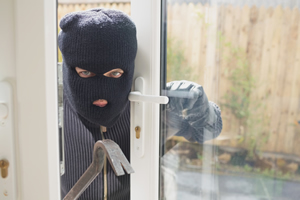 When you've decided to set up your new home security system, you'll also need to take the time to actually think like a burglar. In other words, if you were a burglar, where would you target and why? The mentality of a burglar is one of exploitation and knowing where to target at the right time.
We recently published an article about the mindset of a thief from a business security perspective, and wanted to switch gears and focus on home security. Taking the time to protect your home cannot be underestimated; it is your most prized possession and placing it in this type of jeopardy is not worth the risk.
Sensitive Decisions
Making your home tough to access is the key to successful home protection, but this isn't as easy as it first appears. Many people continue to underestimate how protected they really are until the point when a burglar strikes. By that time, the damage has been done and it becomes somewhat of a frustrating effort to install protection only after you're experienced the crime itself.
First and foremost, you should walk around and thoroughly inspect your home — both the interior as well as the exterior — to determine the weakest and potentially most exploitative points of your property. In terms of the exterior of your home, think of hiding spots behind shrubs or lack of adequate lighting. Once these factors have been identified, research the available options that best protect that particular part of the building; maybe additional lighting is required, for example.
Don't forget the power of psychology. If you were a thief strolling around and seeking out potential targets, wouldn't you be put off by the sight of a home with visible padlocks and locked gates? This small effort could be sufficient to deter the burglar onto another target. Furthermore, on viewing your home, ensure there are no visible collectibles within range, informing the thief that they're actually the ones taking the risk!
No Guarantees
Don't assume that the mind of a burglar is as straightforward as you'd like it to be. For instance, a 'Beware of the Dog' sign may appear as a deterrent to you, but a burglar might think that you simply haven't put the effort into alternative and more rigorous forms of home protection, and therefore you've become a target. Indeed, the mindset of a burglar in determining its target will often depend on their own social history.
This is particularly true for burglars who've had a long history of involvement with crime or those who were recently involved with drug rehabilitation. These groups are, by definition, highly unlikely to be reasonable in their approach to crime and are more likely to take risks. To cater for this, it's necessary to make the extra effort to install mechanisms such as home video surveillance systems to keep you aware of their presence. In this sense, your approach to home protection should be not only to deter the criminal but also to make you aware of their presence should they decided to act.
Keeping your home safe is one of the most important things you can do – not only for your contents but also your health. However small the effort, taking the time to identify potential weaknesses in both the interior as well as the exterior of your home is time well invested.
Next Steps:
Contributed by reader, Emma Philips
https://www.americanalarm.com/wp-content/uploads/2022/12/American-Alarm_logo_1Xr.png
0
0
American Alarm Blogging Team
https://www.americanalarm.com/wp-content/uploads/2022/12/American-Alarm_logo_1Xr.png
American Alarm Blogging Team
2014-08-04 08:55:14
2014-08-04 08:55:14
Why You Should Think Like a Burglar