Shoplifting Prevention Series: The Mindset of a Thief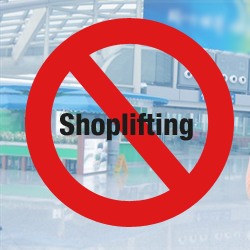 Unfortunately, shoplifting is often considered a necessary part of doing business for a retailer.
Earlier this year, three people – two from New York and one from Pennsylvania – were arrested for allegedly shoplifting $29,000 worth of fur coats and other clothing from a fur shop on Route 28 in Randolph, Mass.
Police also discovered that the suspects had a list of high-end clothing stores from Pennsylvania to Massachusetts, including stores in Boston and Quincy, according to the Patriot Ledger.
In addition to installing a business security system, understanding the different types of shoplifters – and the way they think – can go a long way toward helping you protect your company.
The Shulman Center offers some insight into the types of people who may be stealing from you and how they react once they're caught
Terence Shulman, head of the center, divides shoplifters into seven different groups:
1. Addictive-Compulsive Shoplifters
These people exhibit repressed anger and other compulsive addictions including; overeating, shopping, drug use, or gambling. Usually these shoplifters will steal inexpensive items and give them to people as gifts. They express guilt, shame or remorse if they get caught, often breaking down in tears.
2. Professionals – Stealing for Profit or Lifestyle
The professional shoplifters try to steal expensive items, often stealing more than one time at a time. These thieves carry tools with them to help them with the theft. Typically the shoplifters who fall into this category will resist arrest if and try to flee the store if they're confronted. However, if they're caught and detained, they'll stay cool and calm – and they won't show remorse or any other emotion, either.
The suspects arrested for allegedly stealing the fur coats in Randolph are perfect examples of professional shoplifters.
3. Impoverished – People Who Steal for Necessities
This group of shoplifters will steal for things like food, diapers, toiletries, or even clothes for their children. Once caught these people are remorseful, but they explain how frustrated they are because they don't have any money. They may also rail against a "system" they claim does nothing to help them get on their feet.
4. Thrill Seekers – Stealing for Excitement or on a Dare
These shoplifters, typically teenagers, often steal in groups. Although they know the difference between right and wrong, teens steal for a number of reasons including peer pressure, anger, depression and because they want to see if they can get away with it. Mainly, teenagers steal because they want nice things. If you ask teenagers why they steal, they'll usually say they don't know.
5. Drug & Gambling Addicts – Shoplifting to Feed Their Habits
These shoplifters also prefer to steal high-end expensive items — and typically many items at one time. They look like victims of substance abuse, often carrying drugs or drug paraphernalia with them. Usually not as careful as the Professional, they'll try and run out of the store if they're confronted.
6. Kleptomaniacs – Stealing for No Reason
Kleptomaniacs are impulsive and often careless. Often they'll steal items they don't need and can't even use. Many of these people will admit that they're kleptomaniacs if they're caught shoplifting but they don't show any remorse or shame. They'll often say things like, "I don't remember taking it," or "I don't know why I took it because I don't even need it."
7. The Absent Minded
These people — who don't have the intent to shoplift — include people in a hurry, the elderly, people on medication or people with cognitive issues or memory loss.
Knowing more about the types of people who steal from you is important, however installing a video surveillance system in your retail establishment is the best way to help you control shoplifting, as it enables your company to provide police and loss prevention personnel with the information they need to identify and apprehend the shoplifters.
Next Steps:
https://www.americanalarm.com/wp-content/uploads/2022/12/American-Alarm_logo_1Xr.png
0
0
American Alarm Blogging Team
https://www.americanalarm.com/wp-content/uploads/2022/12/American-Alarm_logo_1Xr.png
American Alarm Blogging Team
2014-04-21 08:55:07
2014-04-21 08:55:07
Shoplifting Prevention Series: The Mindset of a Thief