Selling Your House? Follow these Home Security Tips
The last thing you want to worry about when you put your home up for sale is whether some thief is going to rip you off while you're showing your home.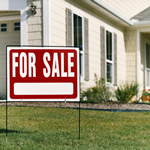 Although protecting your home and your valuables is something that you have to consider when you list your home for sale, there are some common-sense steps you can take to keep from being burglarized when you put it on the market.
Install a home security system if you don't already have one.
Sometimes burglars will pretend to be interested in buying your home so they can "case the joint"  — making it easier for them to figure out how to get back in and rob you at a later date.
Don't give agents your main security code.
With some home alarm systems, you can set temporary codes to let people in when you're not around. If you're not going to be home when your real estate agent plans to show the property, set a temporary code, but don't forget to disable it when it's not longer needed.
Be present when an agent shows your house.
If possible, only allow the real estate agent to show your house when you or a member of your family are going to be home. Temporary security codes aside, it's still better not to let strangers into your home if you're not around.
Make sure your video surveillance system is working.
Install a video surveillance system inside your home if you don't have one. That way you can record what's going on inside your home when you're not around. Not only that, but if thieves know they're being watched, they're less less likely to steal from you. You should also ensure that your video surveillance system monitors the outside of your home, such as main entries and your driveway.
Don't leave your valuables – or your keys – out in the open.
While this might be obvious; hide your expensive jewelry, cash, electronics – anything that might tempt a thief who's masquerading as potential home-buyer. Better yet, ask a relative to keep your valuables for you until you're finished showing your home.
Ensure your doors and windows are locked after a showing.
Sometimes burglars will unlatch a window or unlock a door so they can come back later. Don't make it easy for them and make sure to completely lock-up after your house is shown.
Forget the open house.
Rather than have who knows how many people wandering through your home, ask your real estate agent to only set showings by appointment.
Ask for ID.
Don't be afraid to ask prospective buyers to show you their state-issued identification. Doing that will most likely scare off any would-be thief.
Remember, putting your home up for sale makes it an easy target for burglars. Following these steps can help you protect your home, your valuables and your family.
Next Steps:
https://www.americanalarm.com/wp-content/uploads/2022/12/American-Alarm_logo_1Xr.png
0
0
American Alarm Blogging Team
https://www.americanalarm.com/wp-content/uploads/2022/12/American-Alarm_logo_1Xr.png
American Alarm Blogging Team
2013-06-05 09:25:35
2013-06-05 09:25:35
Selling Your House? Follow these Home Security Tips