Our Best Business and Home Security Stories of 2017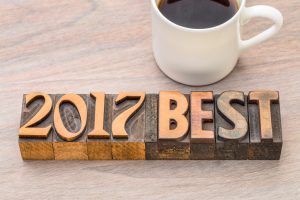 All of us at American Alarm would like to wish our readers a pleasant and prosperous 2018. One thing we have been proud of in 2017 is providing our readers with solid, informative security related content throughout the year.
Here are some of our favorite stories from the past year. We hope you continue reading to stay abreast of best security practices for 2018.
Access
Best Practices for Commercial Access Control Systems
Security needs run around the clock. Access control systems are an integral and essential part of commercial real estate in the 21st Century. What's more, they provide better security than ever. To get the most out of your commercial access control system, you need to be exercising best practices. Here are our top tips for getting the most out of your commercial access control system.
Safety
Five Benefits of Home Security Cameras
Home security camera technology has advanced in leaps and bounds over the last few years. In addition, they are becoming more affordable, meaning that just about anyone can now outfit their home with security cameras. Read these ten benefits of home security cameras whether you're shopping for your family home or your residential real estate properties.
Six Tips to Keep Your Pets Safe When You're Not Home
Most people don't think of their animals as pets. They think about them as part of the family. They want to ensure their pets are safe, even when they're away from home. A home alarm system can be a powerful tool in ensuring the health, happiness and safety of your pets when you're out and about. Read these six tips on how to keep your pets safe.
Monitoring
10 Tips to Prevent Shoplifting
Shoplifting significantly impacts the bottom line of retail businesses. This is especially true during the busiest shopping days of the year. Shoplifting is more professional than ever before, meaning your business can't afford to rely on the same old techniques. Here are 10 tips to keep your merchandise in your stores until paying customers take it out.
How to Improve the Physical Security of Your Small Business
Theft isn't the only security threat to your small business. There are a number of threats to the physical integrity of your small business. These are easily mitigated, by use of an integrated security system. Here's how you can make sure your business is still standing when you and your staff show up tomorrow.
Caught in the Act: Video Verified Alarm Systems Improve Police Response Time to Business Burglaries
Police are your partners in keeping your business safe. One of the best ways you can do that is to have video coverage of your business around the clock. Read about how security technology is improving, helping you and the police to catch burglars in the act, protecting your business and everything inside.
We'd love to hear about what you want to read about in 2018. Drop us a line and let us know what kind of content will keep you coming back to our website for the most cutting-edge information about the security technology industry.
NEXT STEPS:
https://www.americanalarm.com/wp-content/uploads/2022/12/American-Alarm_logo_1Xr.png
0
0
American Alarm Blogging Team
https://www.americanalarm.com/wp-content/uploads/2022/12/American-Alarm_logo_1Xr.png
American Alarm Blogging Team
2018-01-18 09:36:23
2018-01-29 09:28:06
Our Best Business and Home Security Stories of 2017