6 Tips to Keep Your Pets Safe When You're Not Home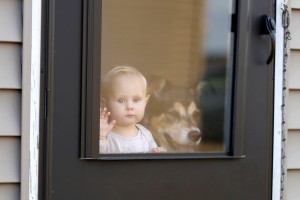 Your pets are an important part of your family and as a pet owner your responsibility is to keep them safe.
It's easy to take care of Rover and Fluffy when you're home, but what happens when you're at work, or away from the house?
Here are some tips to help you keep your furry friends safe, secure and happy when you can't be home with them.
Be sure your home is equipped with smoke alarms, but not just the ones that just have audible alarms. To protect your pets and your home, it's important to install a monitored home fire alarm system and a monitored carbon monoxide alarm system with radio backup monitoring. If a fire erupts when you're away, your stand-alone smoke detectors may sound an alarm, but who's going to hear it? Even the best home alarm system is ineffective if it can't reach the central monitoring facility and alert your provider. With backup monitoring, your security system will remain functional and send an alarm signal to your security company's 24/7 monitoring command center when help is needed.
Hire a reliable pet sitter if you're not sure your pets can handle being home alone, especially if they're very old or very young.
Keep harmful items out of your pets' reach, including paints, plants that may be poisonous, cleaning chemicals and medicines. Don't forget to remove things, such as glass, that could hurt your pets if they're broken. In addition, be sure to keep toilets, heating/air vents and trashcans covered.
Use automatic feeders that will portion out your pets' food as necessary throughout the day. There are automated feeders for water as well as for food.
If you follow these tips, your fur babies will be safe and secure even when you're not home to care for them.
NEXT STEPS:
https://www.americanalarm.com/wp-content/uploads/2022/12/American-Alarm_logo_1Xr.png
0
0
American Alarm Blogging Team
https://www.americanalarm.com/wp-content/uploads/2022/12/American-Alarm_logo_1Xr.png
American Alarm Blogging Team
2017-02-27 16:52:45
2017-03-13 13:37:05
6 Tips to Keep Your Pets Safe When You're Not Home