Fire Safety Tips For Holiday Trees and Ornaments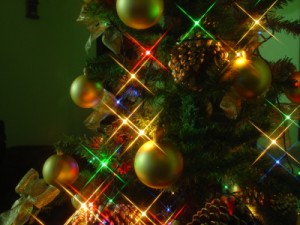 When it comes to lighting your holiday tree, the number one holiday safety tip from fire officials is "never use lighted candles as decorations" — so imagine our concern when we saw this blog post, "How to Put Real Candles on Your Christmas Tree Safely."
"Real candles on a Christmas tree can be stunningly beautiful, moving, but if you don't know how to do it safely, it can be very hazardous. If you know how to do it right, it can be a very good and safe experience. Think it's crazy?" the authors of the post ask.
Yes, here at American Alarm where home and family safety is our top priority, we think it borders on crazy and substantially increases the risk of fire damage or disaster.
Take a look at these statistics to help support our claim:
December is the peak time of year for home candle fires, according to the U.S. Fire Administration.
In December, 13% of home candle fires begin with decorations compared to 4% the rest of the year.
Between 2007-2011, U.S. fire departments responded to an average of 230 home fires per year that started with Christmas. These fires caused an average of six deaths, 22 injuries, and $18.3 million in direct property damage annually, according to the National Fire Protection Association.
In the U.S., on average, one of every 40 reported home structure Christmas tree fires results in a death, compared to an average of one death per 142 total reported home structure fires, according to Massachusetts Fire Marshal Stephen Coan.
"The best way to prevent a Christmas tree fire is to water it well every day, use electric lights safely, and dispose of it soon after the holiday," Coan says.
A home fire alarm system is the best defense against protecting your family in the event of a fire but here are more tips from the fire marshal to help you have a happy, healthy and safe holiday:
Select a fresh cut tree. Here's how you know it's fresh: "Tap the butt on the ground and grab a branch near the top and pull your hand along it slowly. Needles should not fall off. If you bend a needle and it breaks before bending in half, it's too dry."
Using an artificial tree? Make sure it's flame retardant – check the label.
Take good care of your tree. Before you put it in the stand cut an inch or two off the bottom. That will help the tree absorb the water, and water a live tree every day.
When setting your tree up, place your tree in stand with wide feet so it won't tip over, "using extra wires if needed to keep it steady."
Keep doorways and exits clear. Keep your tree and decorations away from heaters, fireplaces, candles, and heat sources.
Use electric holiday lights that are listed by an approved testing agency — and only use them as directed. Think about using the new LED lights that are cooler and use less electricity.
Be sure the bulbs aren't touching the tree, curtains, wrapped gifts, and tree skirts. When you leave your house or turn in for the night, be sure to turn off the lights when leaving the house or going to bed for the night. Don't use electric lights on metal trees.
And finally, avoid using real candles on your Christmas tree.
Happy holidays to you and your family from our family at American Alarm.
Next Steps:
https://www.americanalarm.com/wp-content/uploads/2022/12/American-Alarm_logo_1Xr.png
0
0
American Alarm Blogging Team
https://www.americanalarm.com/wp-content/uploads/2022/12/American-Alarm_logo_1Xr.png
American Alarm Blogging Team
2013-12-23 11:03:21
2013-12-23 11:03:21
Fire Safety Tips For Holiday Trees and Ornaments