Fire Safety for Religious Properties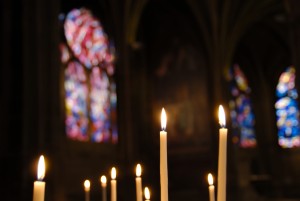 Religious institutions are not just used for Sunday services. They often house daycare centers, preschools, bible study groups and community gatherings.
From 2007 to 2011, U.S. fire departments responded to an average of 1,780 structure fires in religious and funeral properties each year, according to a 2013 report from the National Fire Protection Association (NFPA).
Most of those fires, however, involved religious properties, with just four percent taking place in funeral parlors. On average, those fires resulted in two civilian deaths, 19 civilian injuries, and $111 million in property damage per year, the NFPA noted.
About one-third of the fires in religious and funeral properties were caused by cooking equipment, heating equipment and intentionally set fires. Electrical distribution or lighting equipment caused 10% of fires, while lightning and candles each caused 4%.
Here are some fire safety tips for your religious institution:
Install a monitored business fire alarm system – a professionally installed and maintained fire alarm system is the best way to protect your building, your employees and the public from the threat of fire.
Install smoke detectors throughout the building – smoke detectors should be cleaned and tested regularly. Batteries (if not monitored and professionally installed) should be replaced as recommended by the manufacturer or at least once a year.
Place fire extinguishers in conspicuous, easy-to-reach places – you should have at least one extinguisher for every 2,500 square feet. At the very least, you should have one extinguisher on each level of your building. You should also train employees how to use them.
Use fire retardant draperies, tapestries and decorations.
Store combustible materials, such as vestments, paper supplies and decorations, in an area separated by firewalls or fire barriers.
Keep chimneys clean and free of soot and other obstructions.
Keep kitchen ventilating hood filters clean and free of accumulated grease.
The burners of the stove in the kitchen should be maintained in good condition. Gas burners should ignite as soon as the gas is turned on.
Check the organ frequently to be sure it's turned off – if it's left on, the motor can overheat or short out, causing a fire hazard.
Store fuel-powered equipment, such as lawnmowers, in a separate building.
Update your buildings' floor plans and distribute them to your local fire department.
Clean up debris from social gatherings immediately and place it the proper receptacles outside the building.
If permitted, use safe battery-operated candle-type lights, rather than candles for services. If you are required to use candles in certain ceremonies, designate someone to remain for 30 minutes after the candles have been extinguished to be certain that they haven't re-ignited.
Install a burglar alarm systems to keep out would-be arsonists.
Following these tips will help you prevent fires in your religious properties.
NEXT STEPS:
https://www.americanalarm.com/wp-content/uploads/2022/12/American-Alarm_logo_1Xr.png
0
0
American Alarm Blogging Team
https://www.americanalarm.com/wp-content/uploads/2022/12/American-Alarm_logo_1Xr.png
American Alarm Blogging Team
2016-11-04 12:58:18
2017-02-20 15:13:28
Fire Safety for Religious Properties