Business Security Trends for 2014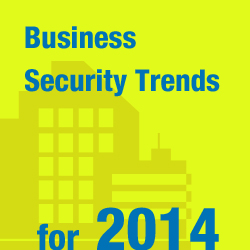 The business security system market will show strong growth in 2014, driven by access management and video, according to James Cook, sales manager for American Alarm.
The Boston Marathon bombings demonstrated the importance of video cameras, as we mention in a recent blog post. Investigators used video from a number of businesses in the Copley Square area to identify Tamerlan and Dzhokhar Tsarnaev, who are suspected of the bombings.
The need to manage access to buildings via video surveillance systems and alarm systems that include enhanced access control is being driven in large part by the school shooting at the Sandy Hook Elementary School in Connecticut as well as other schools across the country, Cook says.
"Everything is trending that way. Unfortunately when horrible things happen in society, our business does better," he says.
There's not much on the horizon when it comes to cutting-edge products except for the technology to monitor access to buildings.
"Video gets better every day," Cook says. "The pixel strength, the clarity, the focus goes up and the price keeps dropping and the quality of the video gets better and better. So I think it will be more accessible to smaller businesses as well as larger companies."
The trend in security systems for smaller businesses – Mom and Pop family-owned businesses, veterinary businesses, garages – are very similar to the trends for residential security systems, according to Cook.
"Where that seems to be trending in terms of technology is the remote access – being able to control your security system through texting on your smartphone or via your PC, laptop, tablet, any of those devices," he says. "In my experience, about 50% of the marketplace takes advantage of being able to remotely control the system."
Business owners like mobile apps and remote monitoring because they can check into multiple sites and stay connected.
"If you own four pizza places for example, you can be at home and dial into the cameras at all four locations and see what's going on – you can check on your employees; you can have cameras that zoom in on cash registers; you can check whatever you want to check for," Cook says. "More so than homeowners, business owners see this as a much more practical application."
However, preventing burglaries and fires are still the "absolute primary reasons" businesses get security systems, Cook adds.
"People like to talk about the apps and all the bells and whistles but they are absolutely conveniences," Cook says. "The nuts and bolts is the actual system at the location."
Cook also predicts that there will be more consolidation in the industry.
"Consolidation is happening every day," he says. "Bigger companies are snapping up smaller companies because the smaller companies just can't compete on a resources scale."
Next Steps:
https://www.americanalarm.com/wp-content/uploads/2022/12/American-Alarm_logo_1Xr.png
0
0
American Alarm Blogging Team
https://www.americanalarm.com/wp-content/uploads/2022/12/American-Alarm_logo_1Xr.png
American Alarm Blogging Team
2014-02-03 08:55:56
2014-02-03 08:55:56
Business Security Trends for 2014