Boston Crime Down in 2015—Is This A "Snow-Go"?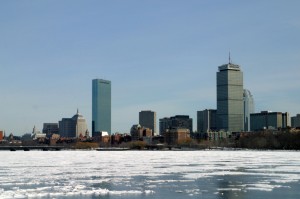 Beantown is busy breaking records, but this time there's no celebration. As noted by CBS Boston, the city recently broke its own record for snowiest winter, exceeding the 107.6 inches of 1995-1996 with 2014-2015's 108.6 inches.
It's not all bad news, however. According to the Boston Globe, crime in the city is down significantly. This begs the question: is all this snow the Boston's newest crimefigher?
One Happy Man
While most Bostonians would prefer to see green grass and sunny skies, at least one man likes the weather: Police Commissioner William Evans. At a recent City Hall news conference, he was asked about falling crime levels and falling snow. His response? He'd like to see a storm "every day".
It's hard to argue with statistics—major crimes in the city fell 34 percent this winter, while vehicle theft decreased by 46 percent, larceny dropped 35 percent, and burglars were 32 percent less active. Despite the assist provided by white weather, the Commissioner says that falling crime rates started before winter really set in, and he cited "good police work" as the cause. Still, citizens and the boys in blue must be feeling some trepidation: When the snow melts and the flowers come out, will crime bloom as well?
Perpetual Winter
In winter, it makes sense that criminals are less active. Lower temperatures make it difficult to commit crimes such as on-street vehicle theft, while large snowfalls reduce the amount of people out after dark or leaving their homes unattended. In other words, criminals have fewer targets to choose from and are more obvious when they're up to no good. Winter acts like a filter, eliminating ordinary citizens who might take walks outside or leave their vehicles unlocked. Criminals are forced to select very specific victims and run a far greater risk of capture, since everyone who isn't on the snowy streets is inside…watching.
It's this citizen interaction that suggests a way forward for Boston once the snow melts. Police can't be everywhere at once, but if residents and business owners can maintain the same level of snow-driven vigilance, it may be possible to keep criminals in a deep freeze all year. Part of this boils down to effective use of technology; remote video monitoring systems and monitored security alarms can act as eye-and-ears when business owners can't be onsite. If Bostonians can continue this pattern of vigilance even when the grass turns green and birds start to sing, criminals may find a city giving them the cold shoulder—and seek their fortunes elsewhere.
Next Steps:
https://www.americanalarm.com/wp-content/uploads/2022/12/American-Alarm_logo_1Xr.png
0
0
American Alarm Blogging Team
https://www.americanalarm.com/wp-content/uploads/2022/12/American-Alarm_logo_1Xr.png
American Alarm Blogging Team
2015-04-01 08:55:05
2015-04-01 08:55:05
Boston Crime Down in 2015—Is This A "Snow-Go"?