Battery Crimes? Video Surveillance Captures Criminal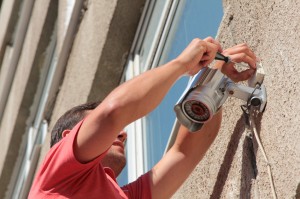 It was a beautiful August day in New Haven, sunny and breezy, with walkers and cyclists out enjoying the weather. In one neighborhood a man was looking for more than good exercise — after checking to see if anyone is watching, he pedaled onto the front yard of a home and started to poke around.
According to WFSB, he was after car batteries, hot items on the scrap metal that sell at 40 cents a pound or more thanks to the precious metals inside.
Neighbors Lending a Hand
Luckily, he didn't get far. A nearby homeowner saw the theft in progress and yelled at the man to stop. He dropped the battery and took off on his bike, but not before several home video surveillance systems caught him in the act. With a rash of thefts plaguing the neighborhood, and now happening in broad daylight, it's more important than ever for residents to stay alert — and make sure they can capture any criminal acts on video.
Full Circle?
In Florida, meanwhile, business security cameras at a St. Petersburg Wal-Mart captured a man walking out of the store without paying for — you guessed it — two security cameras. Luckily, the technology employed by the store was high-quality enough that police have a solid description of the thief, his clothing and his vehicle. Bottom line? When even criminals want security cameras, it's clear the technology has come a long way.
New Improvements
In fact, cameras are going even further. As reported by PCWorld, Sony is releasing two new infrared exposure camera which can clearly see objects up to 30 meters away. This includes faces and vehicle license plates without the problem of washed-out images common to more traditional IR technology.
Staying Safe
Security cameras are often maligned for being poor quality, of low resolution and notoriously difficult to access for playback. New technology is changing the game — from Sony's improved IR to home security system companies that provide integrated video systems homeowners can access remotely, anywhere in the world. Cameras are also become more important to criminal investigations. From the car battery thief in New Haven to the security camera bandit in Florida: when the cameras are rolling, police are better able to do their jobs and residents able to deter future crimes.
Lights, camera, arrested!
Next Steps:
https://www.americanalarm.com/wp-content/uploads/2022/12/American-Alarm_logo_1Xr.png
0
0
American Alarm Blogging Team
https://www.americanalarm.com/wp-content/uploads/2022/12/American-Alarm_logo_1Xr.png
American Alarm Blogging Team
2014-10-07 08:55:42
2014-10-07 08:55:42
Battery Crimes? Video Surveillance Captures Criminal