AIREF Report Underscores Efficacy Of Burglar Alarm Systems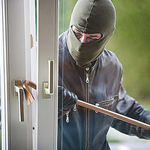 What goes on inside the mind of a burglar? For many of us, the thought process of someone willing to break into our homes are a dark place that we would prefer to avoid dwelling on — but for those in the security and law enforcement sectors, understanding a burglar's motivations are a key component of protecting individuals and businesses from being victimized. A recent report from the Alarm Industry Research & Educational Foundation (AIREF) sheds some light on why criminals chose specific locations to rob, what keeps them away from others, and the techniques that they employ while breaking the law.
One of the key findings of the study is one that shouldn't surprise any home or business owner who has invested in a high quality alarm system: a full 83 percent of the roughly 400 incarcerated burglars made sure to check for the presence of a security system before they broke into a building. In fact, more than half elected to move on to a 'softer' target once they realized that they were dealing with an alarm, underscoring the deterrent power of this form of precaution. Even among those who discovered a location was protected by an alarm in the midst of their break-in, its presence was enough to cause 50 percent to immediately cease and desist their crime.
Burglary is something that happens quickly, with most thieves making use of a waiting get-away vehicle so that they can leave the scene as quickly as possible. On average, those burglars that participated in the AIREF report were in and out in just 10 minutes, which means that in order to maximize the efficacy of your burglar alarm system you will need to make sure that you are working with a security monitoring staff that can respond as quickly as possible to any indication of a break-in. Windows and doors were the main entry routes described by those polled.
Burglary is also not always as meticulously planned as law enforcement pamphlets might have you believe. While close to 30 percent of thieves polled revealed that they always scouted out a building prior to making a move — looking for signs of vacancy, etc. — the remainder indicated that sometimes theft was completely spontaneous. For those who did choose to give a potential target the once-over prior to making their move; things like human traffic, the presence of dogs or surveillance, and a perceived difficulty in escaping quickly and cleanly were prime considerations (on top of the previously-discussed presence of a business or home alarm system).
The use of security alarms to protect your property from burglary is an effective one according to the AIREF report and its illuminating interviews with convicted felons. Matching that alarm system with a security firm that can continuously monitor and quickly respond to reports of a burglary in progress are a must in order to create the strongest possible deterrent against thieves.
Next Steps:
https://www.americanalarm.com/wp-content/uploads/2022/12/American-Alarm_logo_1Xr.png
0
0
American Alarm Blogging Team
https://www.americanalarm.com/wp-content/uploads/2022/12/American-Alarm_logo_1Xr.png
American Alarm Blogging Team
2013-07-24 10:04:38
2013-07-24 10:04:38
AIREF Report Underscores Efficacy Of Burglar Alarm Systems