Home Security Tips: Protect Your Home from Mother Nature's Wrath
This winter it seems that Mother Nature is one unhappy mama, to paraphrase Sudbury, Mass. real estate agent Gabrielle Daniels.
With snowstorms on top of blizzards followed by days when the mercury hits spring-like temps, it's no wonder she's a bit cranky. Not to mention it's only February.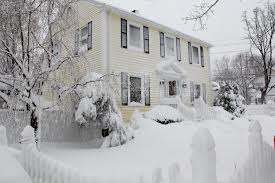 Because we understand just how frustrating – albeit beautiful – winter in New England can be, we'd like to share some tips from Daniels and others to help you keep your home and your family cozy and warm, not to mention safe, from Mother Nature's mood swings.
To prepare for winter storms, Daniels reminds us to:
Check the sheet metal that keeps the intersection between the chimney and roof watertight – aka flashing – around your chimney to be sure water can't seep in and damage your home.
Before you have a mound of snow on your roof, ask a licensed roofer to replace worn shingles or tiles.
Remove leaves and the other gunk that can clog up your gutters so your basement doesn't flood when the snow melts.
If you don't want to share your home with little critters trying to get warm, be sure to seal up crawlspaces and other entry points to prevent mice, for instance, from crawling under – then into – your house.
Trim back tree branches that hang too close to electrical wires.
Be sure you know where your water main is in case you have to shut it off quickly.
Have a licensed mason or chimney sweep inspect the damper on your fireplace to be sure it opens and closes properly.
Store firewood away from the outside of your home and in a dry location.
Have your furnace inspected by a licensed professional once every year. Be sure you have plenty of furnace filters and change them monthly.
Ensure your home has operating smoke alarms and carbon monoxide detectors. In Massachusetts, it's the law. Check with your local fire department to determine the best smoke detector for your home – battery-operated detectors, detectors that are hardwired, or a combination of the two. Carbon monoxide detectors must be installed on every level of your home including the finished parts of basements and attics. And they must be located within 10 feet of each bedroom door. Carbon monoxide detectors can be battery operated, plug-in with battery backup, or hardwired with battery backup.
Keep the contact information for your local utilities handy. Find the phone numbers for your utility companies and tape them near your phone, store them in your mobile phone or keep them in a place that you can access easily.
Prepare an evacuation plan in the event of an emergency.
Buy indoor candles and matches/lighter to use if your power goes out. However, when it comes to candles, matches or lighters you must be very, very careful.
The most fires – and deaths from those fires – occur in the winter, according to the Massachusetts Emergency Management Agency. Candles are responsible for thousands of fires each year, reports the National Fire Protection Association (NFPA). Keep candles away from combustible materials. If you're tired and think you might fall asleep, be sure to snuff out all the candles first.
NFPA offers these candle safety tips:
Extinguish candles before you leave a room or go to sleep.
Place candles at least 12 inches away form anything that is flammable.
Set candles in sturdy containers, which are unlikely to tip over easily, and place them on top of a secure, uncluttered surface.
When lighting candles, keep hair and loose clothing out of reach of the flames.
Do not use candles if oxygen is used within the home.
Finally, the fact is misery loves company and nothing brings neighbors together better than a good, old fashioned Nor'easter. New Englanders are a hearty bunch and we take pride in helping each other shovel driveways and walkways and dig out buried cars.
Unfortunately, there are also some bad guys out there who try to take advantage of the situation. After the Blizzard of 2013, a man claiming he just wanted to help people shovel snow was arrested after he allegedly tried to break into a home in a Waltham, Mass. neighborhood.
However, the house was equipped with one of our home alarm systems, which sounded when the man tried to enter the home through the back door. A neighbor heard the alarm and called 911. They also saw the suspect running away after the alarm sounded and was able to tell the police what the suspect looked like.
Our 24-hour Security Command Center was also alerted when the alarm went off and a command center operator notified the Waltham police as well.
As you can see, it's not only Mother Nature we have to worry about. So, it's important to remember that the best way to deter a potential thief and protect your home is by installing a home security system.
Next Steps:
https://www.americanalarm.com/wp-content/uploads/2022/12/American-Alarm_logo_1Xr.png
0
0
American Alarm Blogging Team
https://www.americanalarm.com/wp-content/uploads/2022/12/American-Alarm_logo_1Xr.png
American Alarm Blogging Team
2013-02-25 10:15:45
2017-04-27 14:27:33
Home Security Tips: Protect Your Home from Mother Nature's Wrath