Three Winter Heating Safety Tips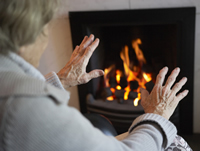 Even though you might be doing your best not to think about it, we're in the trenches of autumn and even colder weather is right around the corner. For those of us living in New England, that means soon it will be time to turn up the thermostat and kick on the home heating system for the first time since the Spring.
Many homes across America are equipped with oil-burning furnaces or wood-burning stoves, each of which come with their own specific set of safety concerns that should be dealt with on a yearly basis. Let's take a look at a three of the things you should keep in mind before firing things up this winter.
Have Your Chimney Inspected.
A lot can happen over the period of a year to your chimney — it could become clogged, cracked, or coated with creosote. Each of these situations can increase the chance of a fire risk, and in fact, chimney fires are one of the most common causes of house fires in the United States. FEMA and the United States Fire Administration recommend having your chimney inspected at least once a year.
Install A Carbon Monoxide Detection System.
Carbon monoxide is an odorless, colorless gas that is released when oil or wood are burned. If your chimney is blocked, or if your furnace malfunctions, carbon monoxide could build up in your home and incapacitate or even kill your and your loved ones. Installing a carbon monoxide detector into the wall on each floor of your home — or having one installed alongside your current monitored home fire alarm system — is an inexpensive way to protect your family from harm.
Clean Your Furnace Filter.
Filters are easy to forget about, because they are out of sight and out of mind. These hidden but integral components of your home's heating system need to be replaced or cleaned on a regular basis in order to maintain maximum efficiency so that you don't use any more oil than is absolutely necessary during the course of the winter. Keeping the filter clean also helps to prevent dust and other contaminants from circulating throughout your home and potentially affecting your health and happiness.
Next Steps:
https://www.americanalarm.com/wp-content/uploads/2022/12/American-Alarm_logo_1Xr.png
0
0
American Alarm Blogging Team
https://www.americanalarm.com/wp-content/uploads/2022/12/American-Alarm_logo_1Xr.png
American Alarm Blogging Team
2013-11-14 08:55:15
2013-11-14 08:55:15
Three Winter Heating Safety Tips