Thanksgiving Fire Safety Tips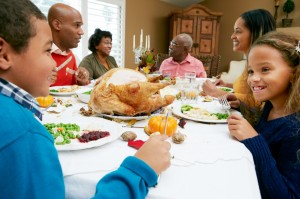 Thanksgiving is the day when people across America gather with family and friends to celebrate, cook, share good food and conversation. Thanksgiving is also the leading day of the year for home fires involving cooking equipment, according to the National Fire Protection Association (NFPA).
In addition to the fire hazards posed by cluttered stovetops and crowded kitchens, turkey fryers and using candles also contribute to the increased risk of fire on this November holiday.
"Sadly, during the holidays we see a spike in cooking fires and injuries," according to Massachusetts State Fire Marshall Stephen Coan.
A monitored home fire alarm system is the best defense against protecting your family in the event of a fire but here are some additional tips from Coan and the NFPA to help your loved ones have a happy, healthy and safe holiday.
Don't leave food, grease or oils cooking on the stovetop and walk away.
Never leave the house when the turkey is in the oven and be sure to check on it frequently.
Keep oven mitts, wooden utensils, pot holders, paper, kitchen towels, or anything that can catch fire away from the top of the stove. Do keep a flame-resistant potholder, oven mitt or lid from a pan near the stove to smother flames.
Avoid wearing loose-fitting clothing with long sleeves that can catch fire easily when you're cooking.
Keep a close eye on the kids so they don't come into contact with cooking food or hot stovetops. Keep matches and lighters out of reach as well.
Don't leave children alone in a room with a lit candle – and keep lit candles away from flammable holiday decorations.
In the event of an oven fire, turn off the oven and don't open the door.
Ensure your smoke alarms are working.
Never use a turkey fryer indoors. Only use it outside and keep it away from your home. Don't use it on a porch, a covered patio or in a garage. Don't use too much oil because often fires occur while the oil is heating up. Before filling the fryer with oil, Coan suggests placing the turkey inside and filling the fryer with water until the bird is submerged. "Remove the turkey and mark the water line on the fryer so you will know how much oil to put in the fryer," he says.
If there is a fire, don't stick around trying to put it out. Be sure all your guests are safely out of the house and call 9-1-1 from a safe area. Of course, your home fire alarm will alert your provider's security staff, who will also dispatch your local fire department.
Preventing a Thanksgiving Day fire isn't difficult if you follow these basic fire safety tips. Be safe and have a wonderful holiday.
Next Steps:
https://www.americanalarm.com/wp-content/uploads/2022/12/American-Alarm_logo_1Xr.png
0
0
American Alarm Blogging Team
https://www.americanalarm.com/wp-content/uploads/2022/12/American-Alarm_logo_1Xr.png
American Alarm Blogging Team
2014-11-24 08:55:53
2014-11-24 08:55:53
Thanksgiving Fire Safety Tips