New England Winter Heating Dangers
Now that we're right in the middle of the winter heating season, you have to be sure you're heating your home or business with safety in mind.
Each year the Massachusetts Office of Public Safety has a Keep Warm, Keep Safe This Winter campaign to remind people about the dangers of winter heating.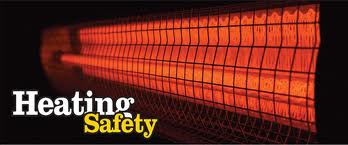 It's no wonder the office considers this campaign a yearly necessity since heating has been the source of over 14,000 fires the last five years and it's the number two reason for Massachusetts home fires, according to Mass.gov.
An additional concern is the rising cost of fuel, according to State Fire Marshal Stephen Coan. The Massachusetts fire service predicts there could be more fires if people choose to save money by skipping maintenance on furnaces and chimneys, which should be checked every season before you use them.
The Massachusetts Office of Public Safety also wants citizens to be aware that unvented kerosene heaters are illegal in the state. While they may be available for sale in other states, they are illegal to use throughout Massachusetts. This law is intended to protect the people because not only are they fire risks, but they produce carbon monoxide.
The recent Northeastern blizzard of 2013 is being blamed for at least 14 deaths in the USA and Canada, including a teenager and a man in his 20s in Massachusetts. "The biggest killer after a blizzard is carbon monoxide poisoning," says Eric Lavonas, associate director of the Rocky Mountain Poison and Drug Center, in an article in USA today.
Public health experts say these carbon monoxide deaths are especially tragic because most can be prevented.
Here are some tips to keep you from becoming a victim of carbon monoxide from WPRI in Rhode Island:
Fuel-burning heating equipment (fireplaces, furnaces, water heaters, wood stoves, coal stoves, space heaters and portable heaters) and chimneys should be inspected by a professional every year.
Before you use your fireplace be sure the damper is open for proper ventilation.
Never use your oven or stovetop to heat your home. The carbon monoxide could kill you and your pets.
All fuel-burning equipment must be vented to the outside to avoid CO poisoning. And it's critical to keep the exhaust vent clear and unblocked.
Never run your car, snowblower, or other engine or motor that runs on fuel, indoors, not even if you open the garage doors. If you do run your vehicle make sure that there's no snow, ice, or other material blocking its exhaust pipe.
Dryer, furnace, stove and fireplace vents must be clear of snow and other debris.
If you're using a portable generator, do so outside in well-ventilated areas away from all doors, windows, vents and other building openings to keep exhaust fumes from seeping into your home or building.
Wood, pellet and coal stoves are allowed for use in some New England states but you need a permit from a building inspector to verify that they're properly installed and in safe working order.
Space heaters caused about 63 reported fires between 2007 and 2011 in Massachusetts, and while that number seems low, one out of every 11 space heater fire causes fatalities. Those reported space heater fires are responsible for six deaths, several injuries to civilians and fire service personnel, and an approximate loss of $3.9 million. Many heater fires – about 22% – are caused when a space heater is placed too close to combustible items including bedding, clothing, furniture and paper.
Alternative sources of heat including space heaters, fireplaces and wood/coal stoves, when used in a safe manner, offer extra sources of warmth during the colder months.
Here are a few tips to keep you safe and warm this winter:
Purchase a heater tested by Underwriter's Laboratories Inc. (UL), or another nationally recognized testing company.
Do not use space heaters as the primary heating source.
Keep heaters at least three feet from things that can catch fire easily including curtains, furniture and paper.
Ensure the heater or stove sits completely flat on a stable surface so there is no chance it could tip over.
If you must use an extension cord with a space heater, use a heavy-duty cord with three prongs.
Turn off space heaters when you're not in the room, especially at night when you're sleeping.
Place a screen or barrier around the fireplace, stove or heater.
Keep heaters away from water.
Keep children and pets away from heating sources.
Don't use a gas oven for heat.
Install a carbon monoxide detector and home fire alarm system, including detectors on every level of the home. Test detectors monthly and change the batteries every six months.
Call your city/town hall to inquire about assistance programs to help families pay their heating bills. Also check out the Mass.gov website for a wealth of resources on fire safety and fuel assistance programs. And watch this video from Mass.gov about space heater safety.
Next Steps:
https://www.americanalarm.com/wp-content/uploads/2022/12/American-Alarm_logo_1Xr.png
0
0
American Alarm Blogging Team
https://www.americanalarm.com/wp-content/uploads/2022/12/American-Alarm_logo_1Xr.png
American Alarm Blogging Team
2013-02-13 07:53:23
2013-02-13 07:53:23
New England Winter Heating Dangers