How to Protect your Business from Scrap Metal Theft
One of the fastest growing crimes in the United States is scrap metal theft. Thieves looking for a fast buck are stealing copper, aluminum, nickel, stainless steel and scrap iron from any number of businesses.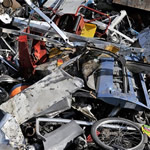 For example, in February a Nashua, New Hampshire man was charged with stealing a scrap-metal bin containing 20,000 pounds of scrap metal from a recycling company, according to an article in the New Hampshire Union Leader — and police believe the alleged thief is also involved with the thefts of scrap metal bins from other locations.
Even more recently, police in Charlton, Mass. arrested two men they allege stole scrap metal from a railroad year, according to the Telegram & Gazette.
Scrap metal thieves like these guys are on the hunt for stainless steel, aluminum, brass, nickel, bronze, zinc, copper and scrap iron – metals they can sell to scrap metal dealers to make a fast buck. The price for scrap metal varies, but copper can bring in $2 to $4 per pound. The dealers, who typically don't ask questions, then resell the scrap metal for a profit.
Thieves often steal copper from gutters, flashings, downspouts, water lines and electrical wiring from construction sites as well as industrial and commercial buildings — and they also steal copper coils and pipes that connect air conditioning units to HVAC systems. Sometimes they're even brazen enough to steal the entire air conditioning unit, which weighs about 130 pounds.
So, if you're a business owner, you have to protect your property from criminals trying to get rich quick by stealing your scrap metal.
Here are some tips to help you reduce your risk:
Install business security systems, video surveillance systems and motion-activated lights to help you cut down reduce the risks of metal theft.
Store your scrap metal in a locked building. Remember: out of sight, out of mind. If you don't have a shed or other structure, be sure the area where you keep the scrap metal is well lit.
Install a 7-foot tall security fence with locking gates around your property — use a fence with barbed wired on top if it's allowed in your town.
Post signs indicating your property is protected by a security system and warn potential thieves of the consequences if they're caught.
Don't make it easy for thieves to get onto the roof to strip your air conditioning unit — remove all ladders, dumpsters, scaffolding or anything else they can use to climb onto the roof.
Trim shrubbery or get rid of it altogether so the criminals won't have a place to hide, or increase exterior lighting and protect fixtures (such as AC units) with locked metal cages.
Put the name of your company on items thieves are targeting using paint, or decals that are hard to remove. You can also engrave your company's name on the metal. "Etching deters thieves from stealing the parts (if the thieves know the metal is marked), deters scrap metal dealers from receiving stolen parts (if the scrap metal dealers know the metal is marked), and provides a tracking mechanism for catching thieves who try to sell etched property or scrap metal dealers who receive it," according to the U.S. Department of Justice.
Create a detailed list of the equipment and bulk metal (if applicable) and include photos to give to your insurance agent as well as police – who can notify local scrap metal dealers – in the event of scrap metal theft.
Report the theft at ScrapTheftAlert.com, an online tool for law enforcement set up by the scrap recycling industry to let the industry know about significant thefts of scrap metal in the US and Canada.
Next Steps:
https://www.americanalarm.com/wp-content/uploads/2022/12/American-Alarm_logo_1Xr.png
0
0
American Alarm Blogging Team
https://www.americanalarm.com/wp-content/uploads/2022/12/American-Alarm_logo_1Xr.png
American Alarm Blogging Team
2013-07-03 09:27:52
2013-07-03 09:27:52
How to Protect your Business from Scrap Metal Theft