How to Prevent the Theft of Copper from Your Home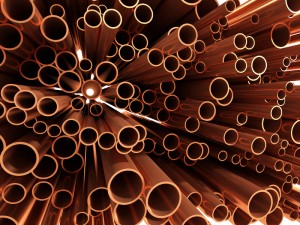 Last year, a man in Abington, Mass. was arrested and charged with numerous crimes including, including possession of burglary tools and receiving stolen property. The 33-year-old man was also suspected of being involved in a string of thefts of copper from vacant and foreclosed homes in the area, according to The Patriot Ledger.
When police officers stopped the man in East Bridgewater, Mass. for driving without an inspection sticker, they discovered five pieces of copper each five feet long as well as pipe cutters, wire cutters, a flashlight, a headlamp, a hack saw and gloves.
At recycling yards in the area, copper was selling for $2 to $2.20 per pound at the time, according to police. In each of the break-ins in the Abington area, as much as 20 to 30 pounds of copper had been stolen.
The theft of metal, particularly copper piping and wiring, has been an ongoing problem, not just in Massachusetts but across the country as well. The U.S. Dept. of Energy estimates that utility companies lose $1 billion worth of copper wire each year to scrap metal theft.
However, your home is also vulnerable to copper theft. Do you know the average single-family home contains about 400 pounds of copper? Well, maybe you don't know, but the bad guys sure do. They know there's copper in the grounding wires for electrical systems, plumbing, the telephone wire, the air conditioner—even the radiator, and catalytic converter in your car.
As a homeowner there are a number of steps you can take to keep the thieves from stealing your copper wire including:
Security Is the Word: Install home security systems to keep the copper thieves out of your home—including the basement—as well as outside security cameras and motion sensor lights to deter them.
Paint It black: Painting all copper components black will trick the burglars into thinking they're just worthless pieces of plastic tubing.
Paint It Orange, or Blue, or Green: Spray paint copper wiring or tubing any color you want—the paint won't hurt the tubing but it will let the thieves know you're on to them. In addition, operators of scrap metal yards won't buy copper that's been painted because they know it's been stolen.
Team up with your neighbors: If your neighborhood has been experiencing copper theft form or join a neighborhood watch association to keep an eye out for unsavory characters. A neighborhood watch also works with local police, who can respond quickly in the event of a break-in. Pay close attention to homes that are vacant.
It's important to keep in mind that when it comes to the theft of copper, no one is immune—not even Abraham Lincoln. Several years ago, thieves in Springfield, Illinois stole part of the copper sword from the statue of a Civil War artillery officer atop Lincoln's tomb. They broke the sword off at the handle–nothing else was damaged.
As you can see the theft of copper is a huge problem—but if you take the above precautions, it doesn't have to be.
Next Steps:
https://www.americanalarm.com/wp-content/uploads/2022/12/American-Alarm_logo_1Xr.png
0
0
American Alarm Blogging Team
https://www.americanalarm.com/wp-content/uploads/2022/12/American-Alarm_logo_1Xr.png
American Alarm Blogging Team
2015-03-18 08:55:57
2017-04-27 15:06:15
How to Prevent the Theft of Copper from Your Home