Home Security Trends for 2014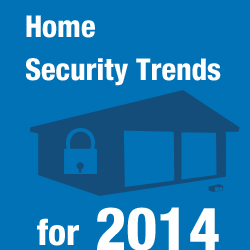 When it comes to what's in store for the home security system market for 2014, the buzzword is still "traditional," according to James Cook, sales manager at American Alarm.
"We're selling more traditional home security systems, not the other stuff and that's what's generating our growth," Cook says. "Although I expect that things like full home automation and other add-ons will continue to grow a little bit after people get more comfortable with technology."
Cook says that while some homeowners may like the add-ons including mobile apps and remote monitoring, the main reasons they invest in home security and alarm systems are to prevent burglaries and fires.
Still, it is important to note that mobile apps and remote monitoring enable homeowners to check on the status of their security systems from a distance as well as interact with their alarm systems if necessary. Mobile apps also offer advanced home and office automation services that can put you in complete control of your property remotely.
There are even wireless apps that can lock and unlock doors, turn lights on or off, and even let you adjust your thermostat settings from your smartphone. Modules for specific electrical outlets can be installed to provide you with similar control over appliances and other devices.
"This type of home automation is talked about a lot but I still haven't seen it embraced yet. Being able to control thermostats and lights – it's a novelty. In other parts of the country I'm not sure, but New England just hasn't really grasped it," Cook says. "I think it will still continue to grow but not at the pace of the regular systems. Everybody loves to talk about it but not that many people in New England are doing it."
The reason: In New England the homes are old, which means homeowners have to get into some serious wiring – something people aren't really thrilled about, Cook says.
"The thermostats that remotely control your heat – you have to have a four-wire set up. A lot of homes in New England don't have that set up," he notes. "If they wanted to take advantage of the new technology, they would have to rewire their homes. In other parts of the country where there new subdivisions and new construction, it's a little different."
A trend Cook does see making its way into the home security market is residential geofencing, which is particularly important for households with children or elderly residents.
With geofencing, you establish a GPS-based virtual perimeter around your home. Then when a device linked up to the system crosses that perimeter, you can be alerted via a text message or an email. The devices can also be linked up to your alarm system, so your security company will be notified and can take the appropriate action.
The bottom line, Cook notes is that what a home security system is intended to do – prevent burglaries and fires – can't be masked by smoke and mirrors.
"I think you're going to see some companies lean more toward the flash rather than the substance," Cook says.
Next Steps:
https://www.americanalarm.com/wp-content/uploads/2022/12/American-Alarm_logo_1Xr.png
0
0
American Alarm Blogging Team
https://www.americanalarm.com/wp-content/uploads/2022/12/American-Alarm_logo_1Xr.png
American Alarm Blogging Team
2014-01-30 10:33:47
2014-01-30 10:33:47
Home Security Trends for 2014