Home Security: Safety Tips while On Vacation
Spring vacation is just around the corner, and keeping your home safe and secure is a full-time job no matter how far away your travels might take you. Just because you are on vacation doesn't mean that local thieves and burglars have also decided to take some time off — in fact, a significant number of houses are targeted because their owners are out of the area and they have been marked as an easy score.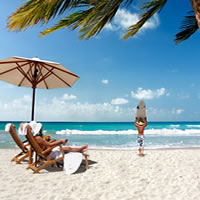 Don't worry — there are a number of ways you can make your home a less appealing choice for burglars even when you can't be around. Let's take a look at a few easy ways to keep thieves from ruining your relaxed state of mind after you've come home from vacation.
Below we outline our top 3 tips to keep your home safe while on vacation:
Don't draw attention to your absence.
Most people who aren't in the business of burglary probably don't notice the subtle signs that a house is empty as they drive through their neighborhood. However, 'professional' eyes can tell a lot about the occupancy status of a home based on how well its lawns, gardens, and shrubs have been tended to, and whether the lights come on at night or not. Even a pile of newspapers at the front door, or the sounds of silence night after night from inside your house can attract negative attention. Make sure to take care of the little things such as; lawn maintenance, stopping your paper (and mail) delivery, and setting up light timers and TV timers before you leave on your trip.
Let your alarm company — and a trusted neighbor — know you are gone.
You'll want your home security system provider to know that you will be keeping your alarm and video surveillance system armed during the period you are away from home, so that they understand that any entry signals they get from your home legitimate signs of unwanted visitors. You might also want to tell a neighbor that you trust that you will be out of town, so that they can keep an eye on strange cars in your driveway, or people walking around on your property. If they can call the local police to report suspicious activity before it happens, then having a few extra patrol cars sent through the area can have a chilling effect on any burglars who have targeted your home.
Keep it off Facebook.
It might be fun to post pictures from Acapulco while sitting on the beach enjoying the sun, but try to resist letting the world know about your vacation via social media websites until after you've come home. Facebook, Twitter, and even your personal blog are easy online stops for burglars looking to see if you're still away from the house. Besides, didn't you go on vacation specifically to unplug and get away from it all?
Next Steps:
https://www.americanalarm.com/wp-content/uploads/2022/12/American-Alarm_logo_1Xr.png
0
0
American Alarm Blogging Team
https://www.americanalarm.com/wp-content/uploads/2022/12/American-Alarm_logo_1Xr.png
American Alarm Blogging Team
2013-03-21 11:05:34
2013-03-21 11:05:34
Home Security: Safety Tips while On Vacation