Home Security: Protect Your Car While It's Parked in Your Driveway
If you think your car is safe parked in your own driveway – think again.
Recently, a man in Waltham, Massachusetts was arrested for allegedly trying to steal another car and its contents, according to the Waltham Patch.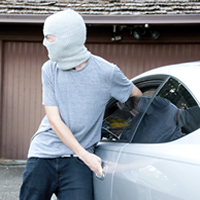 Police arrested the man after they caught him fiddling around under the dashboard of a car while it was parked in the driveway of a home — and this car was allegedly not his only target. Waltham Police Sgt. Joseph Guigno credits "good old fashioned police work" in apprehending this man — but what steps could have been taken to catch this criminal sooner?

Next to your home, your car is probably the most expensive purchase you'll ever make, and that means you have to protect it from would-be thieves and vandals as well.
As part of your home alarm system, include perimeter sensors on all doors and windows, and motion sensors outside. This way, lights will turn on as thieves enter your driveway, deterring them from breaking into or stealing your cars.
An even better method of deterring and catching would-be criminals is installing a video surveillance system towards all main entrances and your driveway. The benefit of this is obvious; any attempted (or successful) break-in will be documented, providing indisputable proof of wrong-doing — and giving local police authorities solid evidence to track down the culprits.
Modern video surveillance systems can be integrated with remote video access, allowing you to keep an eye on your home and driveway while you're away. Thieves often pay close attention to potential targets and wait for times you and your family are away before making their move.
Adding these features to your home security system are fantastic steps to deter and catch criminals attempting to break into or even steal your car while it's parked in your driveway — but without a dedicated team like those in our 24-hour Security Command Center, it might be too little, too late.
In addition to improving the features and functionality of your security system, SavingAdvice.com offers a few additional suggestions for car safety — we've included a few below;
Lock the doors and roll up the windows.
Take your valuables inside/put them in the trunk or glove compartment.
Park in your garage whenever possible.
Use a locking gas cap to prevent gas siphoning.
Never leave your keys in the ignition.
Forget the hide-a-key.
Don't leave your car running unattended.
Next Steps:
https://www.americanalarm.com/wp-content/uploads/2022/12/American-Alarm_logo_1Xr.png
0
0
American Alarm Blogging Team
https://www.americanalarm.com/wp-content/uploads/2022/12/American-Alarm_logo_1Xr.png
American Alarm Blogging Team
2013-03-28 14:00:39
2013-03-28 14:00:39
Home Security: Protect Your Car While It's Parked in Your Driveway