Home Safety Tips for Using Wood-Burning Stoves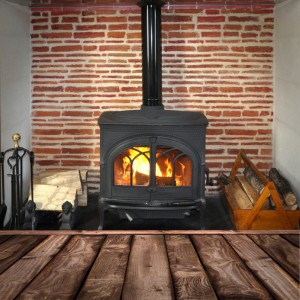 On January 9th, a 16-year-old Nassau County, Florida girl and her mom lost their lives in a fire that was started by a wood-burning stove they were apparently using to heat their home.
The girl's father tried to save his family but, sadly, the fire was just too intense. Investigators said they weren't sure if the home had been equipped with working smoke detectors. A working smoke alarm as well as monitored smoke detectors could have increased their chances of surviving that fire.
If you're one of the many thousands of people who long for the "good old days" when folks used to heat their homes with wood-burning stoves, you should also be aware of the dangers of this practice, including the risk of fire, according to the Insurance Information Institute.
Here are some tips for the safe and efficient use of wood-burning stoves to help ensure your safety as well as the safety of your family and your home.
Install Carbon Monoxide & Smoke Alarms: A number of states including Massachusetts require that homeowners install carbon monoxide alarms in all homes with chimneys or wood stoves. "Install one on every habitable level and no more than 10 feet from every bedroom door," according to the Massachusetts State Fire Marshal's office. "Smoke alarms should be installed on every level of your home, at the bottom of every stairwell and outside each sleeping area."
Select the Right Stove: If you purchase a new stove, ensure that it's made of sturdy, suitable material, such as cast iron or steel. You should only buy stoves that are listed by Underwriters Laboratories (UL) or other recognized testing laboratories. If you purchase a used stove be sure to examine it carefully for cracks or other flaws. Check to be sure there are no problems with the legs, hinges, grates and draft louvers. You should also inspect your stove once or twice a year to check for defects.
Burn Only the Right Fuel: Don't burn coal in your wood-burning stove, unless it was designed to burn wood and coal. You also shouldn't burn trash in your stove because it increases the chance of starting a fire in the chimney. In addition, some plastics and other trash emit harmful gases into the air.
Burn Only Dry, Seasoned Wood: Seasoned wood burns hotter and more efficiently, and helps decrease the amount of creosote buildup in the chimney. Most chimney fires occur due to a build-up of creosote, a foul-smelling, tar-like corrosive and extremely combustible substance.
Dispose of Ashes Properly: Shovel ashes you clean out of the stove into a metal bucket with a metal lid. Then place it outside on the ground, away from your home to prevent fires. Don't put the ashes in a cardboard box or paper bag–embers can stay hot for days and ignite those materials as well as generate carbon monoxide for hours or days after you remove them from the stove. After the ashes sit for a week, you can safely dispose of them in the trash or you can recycle them for use in your garden or for compost. Follow the instructions that come with your wood-burning stove for specific directions on how to properly remove the ashes.
A wood burning stove can be a great way to heat your favorite room. If you follow these tips, you can minimize the pollution from wood smoke, maximize the heat energy potential of the wood, and protect your family and your home against the danger of fire caused by your wood-burning stove.
Next Steps:
https://www.americanalarm.com/wp-content/uploads/2022/12/American-Alarm_logo_1Xr.png
0
0
American Alarm Blogging Team
https://www.americanalarm.com/wp-content/uploads/2022/12/American-Alarm_logo_1Xr.png
American Alarm Blogging Team
2015-02-09 08:55:11
2015-02-09 08:55:11
Home Safety Tips for Using Wood-Burning Stoves