Home Fire System: Avoid Fall Fire Dangers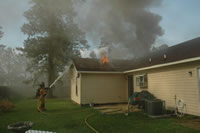 We all know that installing smoke detectors in your home fire system is the number one way to prevent fatalities during a fire in your home. That's why it's critical to change the batteries in your smoke detector twice a year — at the same time you set your clocks to either "spring forward" or "fall back."
This year daylight savings time ends at 2 a.m. on Sunday, Nov. 3. So when you get ready to turn your clocks back an hour, remember to replace the batteries in your smoke detector — as well as your carbon monoxide detector. If you have a monitored fire alarm system make sure you call to have it tested at least once a year. American Alarm is one company that offers free annual wellness inspections to monitored residential customers for this purpose.
Here are a few less obvious steps you can take to reduce the risk of fire in your home.
1. Show your furnace some love. Fall is a beautiful time of year — leaves turning vibrant red, orange, and yellow, the aroma of pumpkin pies wafting through your home wonderfully cool days and even cooler nights. That means you'll be firing up your furnace before you know it. If you don't ensure your furnace is in tip-top shape, heating your home can also be very dangerous.
The most important thing to do is schedule an professional inspection annually. During the inspection, the qualified technician will test your furnace to ensure it's burning properly.
He'll clean the furnace, check for leaks and harmful gases, look at the thermostat and electrical components as well as change the filters.
However, furnace filters should be changed regularly — every month or at least every three months. This will keep the furnace from overheating because its clogged with dirt. The repairman will also check to be sure there are no cracks in the heater exchanger. Deadly carbon monoxide is released into your home if the heater exchanger is cracked. It's also important to have a carbon monoxide detector installed.
2. Replace the chimney cap to keep debris, moisture and varmints out. Have a technician check the chimney cap to be sure it's not clogged with soot or pulling away from the chimney. If the chimney cap isn't working right, birds, squirrels, other animals looking to stay warm can get it and build nests, preventing smoke and gases from that cozy fire from escaping. In fact, these harmful gases will end up backed up into the rooms of your home, causing smoke and soot damage and even carbon monoxide poisoning. And if moisture gets into the chimney flue, it can cause the structure to deteriorate.
3. Clean your dryer vent. The leading cause of home clothes dryer fires is the failure to clean them, according to the National Fire Protection Association (NFPA). Dryer fires usually occur when the lint in the duct reduces air flow, increasing drying time and causing the motor to overheat. When lint accumulates in the dryer exhaust vent, it blocks the airflow and the lint in the lint trap, or dryer exhaust hose, can serve as a fuel for a fire. And blocked ducts in gas dryers can cause the exhaust from the dryer — carbon monoxide — to back up into the house.
You should have an experienced dryer exhaust technician inspect, clean and verify that the venting system is installed correctly at least once a year.
4. Clean your air ducts. Because dust is flammable, dust that accumulates in your air ducts can pose a fire hazard. The easiest, most effective way to get rid of dust build up is to clean the air ducts. It's important to have a professional air duct cleaning company do the work because if the air ducts aren't cleaned properly, more loose dust could circulate, increase the risk of a fire.
5. Check out the wiring. If your home is 10 years old you should consider having the wiring inspected by a licensed electrician. If it's older than that, an inspection is way over due. This is extremely important in older homes especially if fuses have been blowing regularly or if you've installed new appliances that may be using more electricity. Bad wiring is often the cause of fires in old houses.
6. Plan an escape route. Even though you've taken all the necessary precautions to prevent a fire in your home, you should still make a plan in case there is a fire. You should devise two ways you and your family can escape from each room in your house — and be sure all your family members know where to meet once they get outside. Your family should practice escaping from your home twice a year, at different times of the day. Teach your family members to Stop, Drop, and Roll if their clothes should catch on fire.
Of course, it's also vitally important to have a fully-functioning monitored home fire alarm system installed in your home — including smoke and heat detectors — to ensure they're ready when disaster strikes.
Next Steps:
https://www.americanalarm.com/wp-content/uploads/2022/12/American-Alarm_logo_1Xr.png
0
0
American Alarm Blogging Team
https://www.americanalarm.com/wp-content/uploads/2022/12/American-Alarm_logo_1Xr.png
American Alarm Blogging Team
2013-10-11 09:00:54
2016-01-25 11:04:16
Home Fire System: Avoid Fall Fire Dangers