Holiday Home Security and Safety Series: Holiday Shopping Safety
It's Friday night and you've hit the mall. You're looking to find the perfect gifts for all the people on your holiday shopping list. The last thing on your mind is becoming a victim of crime. The reality is, you very well could be.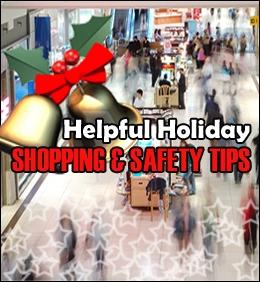 Police and safety organizations across the country are warning of the risks associated with the holiday shopping season.
The holidays are hectic. Shoppers are easily distracted. They become more unaware of their surroundings, giving criminals more opportunities.
In Chicago, police are warning holiday shoppers that they can become easy prey for pickpockets who blend into crowds at stores, on sidewalks as well as inside packed public busses and trains, according to this article in the Chicago Tribune.
Pickpockets often work in teams and use tricks like dropping change, fainting or bumping into you to cause a diversion. Then when you're not paying attention, one of the thieves can steal your purse or wallet.
Law enforcement officials often refer to the "criminal triangle" – desire, opportunity and victim, according to The Edmond Sun. Criminals pick targets and assess their weaknesses. They then test the potential victim for accessibility and defense capabilities before acting.
But you'll have a better chance of staying safe if you know how to protect yourself.
"As in any situation, preparation is key," says Officer Roger Martin of the Beachwood Police Department in Cleveland, Ohio, in an article published by Nationwide.com. "You never know what can happen, and taking some time up front to prepare can help prevent you from becoming the victim."
Here are some tips to ensure you don't become a victim of crime this holiday season from the Mobile, Alabama Police Department, Nationwide Insurance, The Edmond Sun and the Reno Police Department:
Stay aware of your surroundings.
Shop with others. Remember, safety in numbers.
Park in well-lit, highly trafficked parking lots.
Shop during the day whenever possible.
A woman should carry her purse close to her body and hold it tight. A man should place his wallet in a front pocket or the inside pocket of a jacket.
Keep an eye on your shopping bags when you're eating in mall food courts. This is an optimal place for thieves to steal or switch bags.
Do not carry large amounts of cash. Instead, pay for purchases with a check or a credit or debit card.
Keep valuables hidden in your vehicle, preferably in a trunk or under a seat. You can also cover them with a blanket. Be sure you hide small electronics like MP3 players, iPods, cell phones, GPS systems and satellite radios really well.
Always lock your vehicle and close the windows when you leave it in a parking lot.
Don't shop while you're distracted. Allow for plenty of time. Leave children with a babysitter. Shoppers in a hurry, busy with children, talking on their cell phones or otherwise distracted are unaware of their surroundings and become easy targets for the criminals.
Always have your keys out and ready when you're walking to your vehicle.
Walk confidently and scan your surroundings when you're walking in a parking lot.
Report suspicious activity to the police or mall security.
Request a mall security escort if you feel unsafe walking in the parking lot.
Avoid groups of people loitering in parking lots, and avoid contact altogether (whenever possible) with strangers in parking lots.
Next Steps:
https://www.americanalarm.com/wp-content/uploads/2022/12/American-Alarm_logo_1Xr.png
0
0
American Alarm Blogging Team
https://www.americanalarm.com/wp-content/uploads/2022/12/American-Alarm_logo_1Xr.png
American Alarm Blogging Team
2012-12-10 08:08:41
2012-12-10 08:08:41
Holiday Home Security and Safety Series: Holiday Shopping Safety