Holiday Home Security and Safety Series: Holiday and Christmas Tree Fire Safety
The weekend after Thanksgiving marks the traditional start of the holiday season. It's the time when people across the country begin decorating their homes for the holidays. That includes putting up Christmas trees and decking homes with festive holiday lights.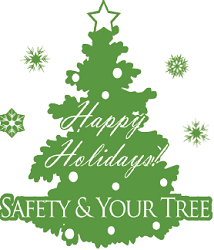 While Christmas trees and holiday lights are lovely to behold, they can also be dangerous.
Each year approximately 240 home fires involve Christmas trees while approximately 150 home fires are linked to holiday lights or other types of decorative lighting, according to data compiled by the National Fire Protection Association (NFPA) and the U.S. Fire Administration (USFA).
These fires cause about 21 deaths and cost $25.2 million in property damage. Shorts in electrical lights, or open flames are most often the root causes of tree fires. A well-watered tree poses very little risk because the moisture content of the needles limits ignition. A dry tree can easily ignite when exposed to a flame, according to J.B. Smith, Wisconsin's Safety and Buildings Division Commercial Buildings Program Manager.
Watch this video to witness the flammability of a wet tree versus a dry tree.
A home fire alarm system is the best defense against protecting your family in the event of a fire, but here are some tips from the U.S. Fire Administration to prevent a holiday fire from happening in the first place.
Select a fresh tree with green needles that are hard to pull back from the branch.
Do not place trees close to a heat source, including fireplaces or heat vents. Heat can dry out the tree quicker, making it much more susceptible to being ignited by heat or flames.
Keep the tree stand full of water at all times.
Do not leave the tree up for longer than two weeks.
When the tree starts to dry out, discard it quickly. Your local city hall can tell you if there's a recycling facility for holiday trees, or if the city offers a pick-up service.
Inspect holiday lights every year before using them. Look for frayed wires, broken sockets, or other excessive wear. Only use lights that are labeled approved by a nationally recognized testing laboratory.
Never connect more than three light strands, unless the directions specifically state it's safe. You want to avoid overloading electrical circuits.
Do not leave holiday lights turned on if you're going to be away from home or after you go to bed at night.
Check that all holiday decorations state they are flame retardant.
Place trees and decorations so that they do not block exits in case of a fire or other emergency.
Do not burn wrapping paper in a fireplace as it can result in a large fire, which may release sparks and embers and cause a chimney fire.
Do not use lit candles for decorations, particularly on a tree. If you choose to decorate with candles, be sure they are set in stable holders on a flat surface, at least 12 inches from anything that could catch fire. Never go to bed or leave the room when a candle is lit.
Next Steps:
https://www.americanalarm.com/wp-content/uploads/2022/12/American-Alarm_logo_1Xr.png
0
0
American Alarm Blogging Team
https://www.americanalarm.com/wp-content/uploads/2022/12/American-Alarm_logo_1Xr.png
American Alarm Blogging Team
2012-11-27 09:05:07
2012-11-27 09:05:07
Holiday Home Security and Safety Series: Holiday and Christmas Tree Fire Safety