Fire Safety in Off-Campus Housing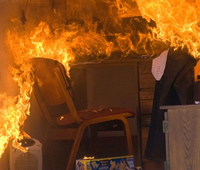 We're only a couple months into the academic year, but tragically one college student has already perished in an off-campus fire.
Scott Notary, a 22 year old Purdue University student from Lafayette, Indiana, was killed in his apartment in a 2 ½ story residential building in the early morning hours of November 17, according to Campus Firewatch. Notary was found in a bedroom on the second floor.
This is the first fatal fire of the 2013-2014 academic year. Since 2000, Campus Firewatch said there have been 163 campus-related fire fatalities – 87% of them occurred off-campus, where approximately 2/3 of the students across the nation live.
During the last academic year, seven students were killed in fires in off-campus housing nationwide, including Boston University student Binland Lee, a senior studying marine science, who died in April in a off-campus fire in Allston, Mass. Fifteen others were injured in the blaze, including two other BU students.
The blaze, which broke out at 6:30 a.m. on April 28, destroyed a three-story house at 87 Linden Street and injured nine residents, including two other University students, and six firefighters. It was caused by caused by someone carelessly disposing of smoking materials.
When firefighters tried to get into the house through the front door to fight the fire, they discovered there was inside stairway to get to the second floor.
That meant firefighters had to go outside, to the back of the house and extend lines up an exterior wooden stairway to the second floor. Additionally, there was no way to get the third floor from the outside because of the inside stairway, according to Campus Firewatch.
Every year college students across the country – both on- and off-campus – are involved in hundreds of fire-related emergencies, according to the U.S. Fire Administration (USFA).
Overall, most college-related fires happen because students aren't aware of fire safety and prevention. So it's important for off-campus students to understand the fire risks and know the preventative measures that could save their lives.
The USFA offers a list of questions students and/or their parents should ask potential landlords before signing a lease and/or moving in. Additionally, students should ask those questions now if they haven't already.
Are there working smoke alarms installed? (Preferably in each bedroom, and connected to each other so they all sound all if any one detects smoke)?
Are there at least two ways to get out of your bedroom and your building?
Are there at least two interior stairways – or a fire escape – that lead to the upper floors of the building?
Is a sprinkler system installed and maintained?
Can the existing electrical outlets handle all of the appliances, computers, printers and electronics that you and you're roommates are bringing – without the need for extension cords?
Are there EXIT signs in the hallways of your building to show you the way to get out?
Does the building have a fire alarm system installed and maintained?
Does the sprinkler system or fire alarm system send a signal to the local fire department and/or campus security?
Has the heating system been inspected in the past year?
Is the address of the building clearly posted so emergency personnel can find you quickly in case there's an emergency?
Next Steps:
https://www.americanalarm.com/wp-content/uploads/2022/12/American-Alarm_logo_1Xr.png
0
0
American Alarm Blogging Team
https://www.americanalarm.com/wp-content/uploads/2022/12/American-Alarm_logo_1Xr.png
American Alarm Blogging Team
2013-11-26 11:14:43
2013-11-26 11:14:43
Fire Safety in Off-Campus Housing