Carbon Monoxide Poison Prevention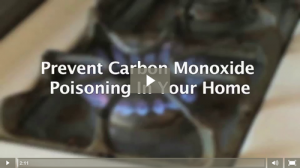 When the weather outside is frightful, many of us take cover in our nice, warm homes. But when we bundle up and use alternative sources of power, we are also putting ourselves at risk for carbon monoxide poisoning.
Fumes from portable generators, stoves, lanterns and gas ranges can build up in enclosed spaces and be very harmful to people and pets.
Watch our video below (or read the transcript) for ways to prevent carbon monoxide poisoning in your home this winter.

​
Never use a gas range or oven to heat your home. And be sure all your gas appliances are properly adjusted and serviced.
Never leave a motor running or vehicle parked in an enclosed space, like a garage, even if the windows are open. Anything gasoline-powered should be more than 20 feet away from an open window, door or vent.
Monitor appliances, chimneys and vents for visible soot, rust, stains, blockage or corrosion. Have them inspected each year to ensure they vent properly so the gas can escape. If using a fireplace, don't close the damper until the fire is completely out.
Never use a charcoal grill, hibachi, lantern or portable camping stove inside a home, tent or camper.
And finally, install at least one smoke detector and carbon monoxide detector on the entry level of your home and near each of your bedrooms. And be sure to test them at least twice per year.
Remember, carbon monoxide is an odorless and tasteless gas, so it's important to take these precautions to protect your family.
If you or anyone in your family is showing signs of headaches, dizziness, weakness, nausea, chest pain or confusion, it may be a sign of carbon monoxide poisoning and you should consult a health care professional right away.
Next Steps:
https://www.americanalarm.com/wp-content/uploads/2022/12/American-Alarm_logo_1Xr.png
0
0
American Alarm Blogging Team
https://www.americanalarm.com/wp-content/uploads/2022/12/American-Alarm_logo_1Xr.png
American Alarm Blogging Team
2015-02-25 08:55:22
2015-02-25 08:55:22
Carbon Monoxide Poison Prevention