Bad Birthday: Autistic Man's Cash Gift Stolen in Stamford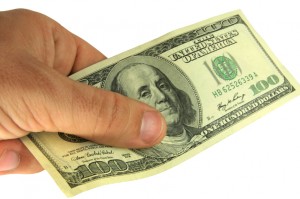 Birthdays are supposed to be happy occasions: cake, balloons, and the company of close friends. However, for one Stamford man late last year, $100 in birthday cash led to a very strange series of events.
According to Lohud, it all started when the autistic man received $100 for his birthday. He was quickly befriended by 27 year-old Steven St. Jacques, also of Stamford, who played a "game" with the victim, which involved taking the money and then pretending to put it back into the man's pocket. Police posted security footage of the event on YouTube and later arrested St. Jacques at his home, where they recovered clothing matching that worn by the suspect in the video. The victim was presented with a new gift: $1300 collected by the police union.
The Gift that Keeps on Giving
It's an "alls well that ends well" kind of story: bad guy gets caught, and the victim gets properly compensated. But it wouldn't have been possible without technology. Thanks to IP video surveillance cameras both outside and inside buildings on Old Main Street, police were able to capture details of the theft itself and the criminal's clothing. Video clearly shows the suspect talking to the victim, taking something from him, "returning" it and then running away. What's more, the quality of outdoor video is high enough to that it's easy to identify distinctive clothing, such striped pants or a hoodie with square-shaped print.
In isolation, however, even this kind of high-quality video does little good. By leveraging a video sharing site like YouTube, police were able to track down the suspect, search his home, and ultimately recover the clothing that led to his arrest. Bottom line? Without great video, this becomes another unsolved crime.
The IP Advantage
Quality rather than quantity is becoming the hallmark of great video security systems. As noted by a recent CIO article, the Maricopa County Sherrif's Office—the third-largest Sheriff's agency in the United States—recently upgraded their legacy video system to an IP-based alternative, and the difference is substantial.
Using the old system, it took two days just to retrieve 30 minutes of low-quality footage; now, 12 hours of HD footage can be obtained in just 17 minutes, giving officers critical information when it matters. The same kind of technology is now available for businesses and homeowners: megapixel, IP-enabled cameras that monitor in real time and offer easy access to any recorded footage.
From stolen birthday cash to large-scale law enforcement administration, video systems are quickly becoming critical components in fighting crime and serving justice. Want the gift of real security? Invest in high-quality video surveillance backed by a best-in-class security provider.
Next Steps:
https://www.americanalarm.com/wp-content/uploads/2022/12/American-Alarm_logo_1Xr.png
0
0
American Alarm Blogging Team
https://www.americanalarm.com/wp-content/uploads/2022/12/American-Alarm_logo_1Xr.png
American Alarm Blogging Team
2015-02-12 08:55:21
2015-02-12 08:55:21
Bad Birthday: Autistic Man's Cash Gift Stolen in Stamford