After School Safety Tips for Kids Home Alone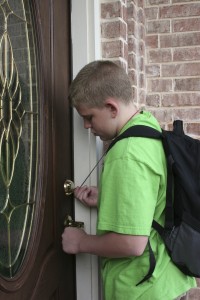 Being a working parent is never easy. Now that school is about to start, you're probably doing some extra worrying about how to make sure your children are safe at home until you get back from work.
The truth is, no matter how sensible you think your kids are, you are still going to worry about them. If leaving your kids home alone is your only option, there are steps you can take to keep them safe.
If your child will be home alone after school you should:
Make sure your smoke detectors are functional – A working fire alarm system is one of the most effective ways to protect your children in case of a fire in your home.
Make a list of key people and telephone numbers – You should post this where your children can find it in the event of an emergency.
Tell your children where the flashlights are located – Be sure that the batteries are fresh.
Create an emergency plan with your children – Practice it with them so they'll know what they should do in case there's a fire, or other emergency or if they get hurt. Write the plan down and make sure your children know where it is.
Remind your children to lock the doors – Be sure they also know how to turn on your home security system and leave it on until you get home. You should also remind them not to open the door for anyone.
Add video surveillance to your home security system – Thanks to advances in video cameras, recorders and networking capabilities, video surveillance systems are more affordable than ever for the home.
Integrate remote video access – This will enable you to log in and check on your kids from any computer, smartphone or other mobile device with Internet access. A remote video monitoring service lets you view your video surveillance cameras and access recorded images from anywhere.
Download the free Red Cross Emergency App on your children's smartphones or tablets – This app provides real-time weather alerts and safety information, including letting your children know what to do if the alert goes off. The "Family Safe" feature lets you check in with your kids via text message to ensure they're safe.
Download the free Red Cross First Aid App – This app will give them immediate access to expert advice for everyday emergencies.
Following these tips will give you peace of mind and go a long way toward keeping your kids safe while they're home alone.
NEXT STEPS:
https://www.americanalarm.com/wp-content/uploads/2022/12/American-Alarm_logo_1Xr.png
0
0
American Alarm Blogging Team
https://www.americanalarm.com/wp-content/uploads/2022/12/American-Alarm_logo_1Xr.png
American Alarm Blogging Team
2016-08-25 18:13:32
2017-03-22 08:52:14
After School Safety Tips for Kids Home Alone