6 Tips for a Safe and Fun Family Road Trip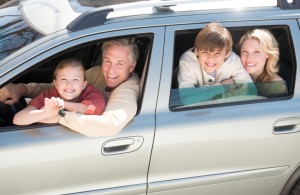 You and your family have been mapping out your route for months. Now you've packed your suitcases, set your home security alarm, and you're ready to hit the open road.
Before you and your family set off, here are six tips to ensure you and your family have a safe and fun-filled trip.
1. Get Your Car in Gear for Long-Distance Trip
There are a few things you need to check to ensure that your vehicle is safe and ready to go including:
Check your fluids
Change the oil if necessary
Check the wear on your tires and the air pressure
Be sure all the lights and signals work
Change the air filter to improve performance
Have the cooling system inspected for leaks and weakened hoses
Ensure the air conditioner is working properly
"These are common sources of vehicle failure during a road trip," according to TrueCar.com. "Among them, your tires, brakes, and lights are the most critical, because if they fail, your family faces an increased risk of a crash."
If your tires are worn, buy new ones before you leave. Be sure the suspension is aligned properly because misalignment can cause your tires to wear prematurely. Ensure all the lights work, especially the brake lights. Check your windshield wiper blades and be sure you have enough wiper fluid.
2. Pack an Emergency Roadside Kit
The National Highway Traffic Safety Administration (NHTSA) recommends you bring along some items to help you if your vehicle breaks down including a fully charged cell phone, first-aid kit, flashlight, flares and a white flag, jumper cables, nonperishable food, drinking water, and medicines.
3. Buckle Seat Belts
This might be a bit of a no-brainer, but seat belts save lives. In 2012, the use of seat belts in passenger vehicles saved an estimated 12,174 lives, according to NHTSA. Seat belts are the single most effective way to prevent death in a crash and have saved nearly 300,000 lives since 1975 in the U.S. alone, according to AAA.
4. Use Sunscreen Even Inside Your Car
Be sure you slather the sunscreen on yourself and your family. Parents magazine even recommends putting hats on your younger children and using a sunshade for the backseat of your car. In addition, when you stop to rest or have some lunch, cover a child's car seat with blankets so they don't burn themselves when you head back out on the road. Parents magazine also suggests touching the car seat before you sit down to ensure it's not too hot.
5. Be Wary of Strangers
If your car breaks down – or you have to stop for other reasons – keep the doors locked and the windows up, while you're waiting for help. If a stranger approaches just open your window slightly so you can hear what he's saying, according to AAA.
6. Drive Safely
This is another no-brainer, but it's vitally important to adhere to these safe driving tips offered by the American Red Cross:
Don't speed
Don't drive drunk
Don't text and drive
Don't talk on your cell phone while you're driving
Don't become distracted
Don't drive if you're sleepy
Don't follow too closely behind the car ahead of you
Remember car safety begins and ends with you – the driver. Follow these tips and you and your family will have a great summer road trip – and you'll arrive home none the worse for wear.
Happy motoring.
Next Steps:
https://www.americanalarm.com/wp-content/uploads/2022/12/American-Alarm_logo_1Xr.png
0
0
American Alarm Blogging Team
https://www.americanalarm.com/wp-content/uploads/2022/12/American-Alarm_logo_1Xr.png
American Alarm Blogging Team
2014-08-11 08:55:19
2014-08-11 08:55:19
6 Tips for a Safe and Fun Family Road Trip