5 Steps to Stay Safe While at College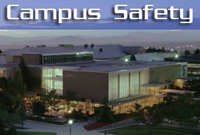 You've seen the headlines. Every year it seems a new act of tragic violence erupts on one of our country's college campuses, renewing the fears of both parents and students.
But according to national statistics and campus safety experts, campus crime prevention is improving and incidents of major crimes are in decline.
You can help prevent crime as well by taking a few simple precautions.
Watch the video below for our five steps to help you stay safe while at college:
Here are the 5 steps to stay safe while at college as mentioned in the video:
Number 1. Keep your doors locked at all times. This includes the outside door to your residence hall as well as the door to your dorm room. If you're running down the hall to borrow a book or hop in the shower, lock it up. And don't forget to secure your windows as well.
Number 2. Be careful with your keys. Don't give copies of your keys to anyone and be careful when hiding a spare set. Consider your key chains and other identifying markers on your keys that could lead unwanted visitors straight to your front door.
Number 3. Put emergency numbers in your cell phone. If your wallet or backpack is stolen, you'll need to know what numbers to call to cancel your credit and debit cards. The last thing you want is someone cashing in on all the hard-earned money you've earned this semester.
Number 4. Use the buddy system – even if the concept does seem a bit old fashioned. If taking night classes, walk with a friend in well-lit areas. If you have a date, tell someone where you're going and when you plan to be back. If you live off campus, call someone when you reach home to let them know you're safe.
Number 5. Take advantage of campus security. Most school websites spell out these services for you. Use the campus escort service, if available, to catch a free ride. Also know the phone number and location of campus safety, you never know, you may need it for yourself or for something you've witnessed from far away.
Staying safe while you're in college doesn't have to be complicated. These five steps can be done with minimal effort and help you avoid lots of problems later.
https://www.americanalarm.com/wp-content/uploads/2022/12/American-Alarm_logo_1Xr.png
0
0
American Alarm Blogging Team
https://www.americanalarm.com/wp-content/uploads/2022/12/American-Alarm_logo_1Xr.png
American Alarm Blogging Team
2013-10-16 08:55:08
2017-03-22 09:38:19
5 Steps to Stay Safe While at College