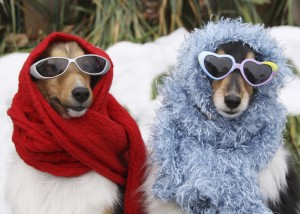 Any animal lover will tell you that one of the best parts of winter is watching your beloved pet play out in the snow. Of course, there are also pets that want nothing to do with the cold weather and would prefer to be curled up by the fire all day. Whether your pet loves or hates this season, it's important to protect them from the elements! Follow these four winter safety tips to help keep your pet safe and healthy this winter.Protect your pets from the elements.
Some breeds of dogs are built for the snow, while others need some extra protection. When outdoors on cold days, short haired dogs may be more comfortable wearing a sweater. Remember that even dogs with thick coats have exposed skin on their ears, nose, and paws. If you tend to go on long winter walks, consider buying a pair of dog booties.
No matter how well your pet is built for winter, they should be kept indoors and away from the cold as much as possible. If for some reason your pet does need to spend extended periods outdoors, be sure they have a shelter. Insulate the shelter by lining it with straw or a warm blanket. If you have a fenced in yard, a good option is to install a smart pet door. A chip on their collar will activate so they can come and go as they please, while keeping unwanted guests out.
Keep pets away from chemicals
Most ice melts contain salts that are harmful to your pet if ingested. If you plan on using an ice melt on your sidewalk or driveway, buy a brand that is pet and child safe. This can be purchased at your nearest hardware or pet store. If your pet has been exposed to ice melt that may contain salt, wipe their paws with a damp towel.
Another common winter chemical that very dangerous is antifreeze. Antifreeze has a sweet taste but is deadly if ingested. You can opt for more pet and echo friendly options that contain propylene glycol.
Give your pets enough food and water
Like humans, animals burn more energy in the winter because their bodies are working to keep them warm. If your pet spends a lot of time outside, don't be afraid to give them a little extra food if they need it.
If you are running the heat frequently, be sure your pet has enough water. The dry, warm air may dehydrate them, especially if they enjoy curling up near a heater.
Make sure your pet has proper identification
Many animal lovers will care for stray animals during the winter by providing them with food, water and shelter. If your pet does not have identification, someone may mistaken them for a stray and take them in. Be sure your pet has up to date tags on their collar, and consider getting an identification chip implanted in them.
Our pets love playing out in the snow as much as we do!  Taking simple steps now will help you both have a safe and fun winter.
Next Steps:
https://www.americanalarm.com/wp-content/uploads/2022/12/American-Alarm_logo_1Xr.png
0
0
American Alarm Blogging Team
https://www.americanalarm.com/wp-content/uploads/2022/12/American-Alarm_logo_1Xr.png
American Alarm Blogging Team
2016-02-11 19:44:11
2016-02-11 19:44:11
Winter Pet Safety